FDA debuts purple book for biologicals and interchangeable biosimilars Posted 12/09/2014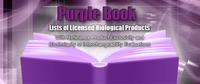 On 9 September 2014, the US Food and Drug Administration (FDA) announced the publication of its first-ever edition of the 'Purple Book', a new set of lists of licensed biological products and interchangeable biosimilars that is meant to be the biological equivalent of the 'Orange Book', which lists pharmaceuticals and their generic equivalents.
The Purple Book lists biological products, including any biosimilar and interchangeable biological products licensed by the FDA. The lists are also said to include the date of licensure of the reference product, as well as date of first licensure (from which exclusivity is calculated) and the reference product exclusivity expiry date. However, the later dates are sadly lacking in the current lists, with only Granix (tbo-filgrastim), Neupogen (filgrastim) and Perjeta (pertuzumab) containing this extra information.

The date of first licensure is important as it will determine when a biosimilar manufacturer can submit an application to FDA via the abbreviated biosimilars pathway. Draft guidance issued by FDA in August 2014 makes it clear that originator biologicals will enjoy a period of 12 years of marketing exclusivity on their products from the date of first licensure, as well as a further six months of exclusivity if the sponsor conducts paediatric studies [1].

No interchangeable products are yet listed in this new Purple Book, which is not surprising, given that FDA is yet to approve a biosimilar. The agency does state, however, that 'biosimilar and interchangeable biological products licensed under section 351(k) of the Public Health Service (PHS) Act will be listed under the reference product to which biosimilarity or interchangeability was demonstrated'.

FDA defines an 'interchangeable' biological product to be 'a product that has been shown to be biosimilar to the reference product, and can be expected to produce the same clinical result as the reference product in any given patient. In addition, to be determined to be an interchangeable biological product, it must be shown that for a biological product that is administered more than once to an individual the risk in terms of safety or diminished efficacy of alternating or switching between use of the biological product and the reference product is not greater than the risk of using the reference product without such alternation or switch'.

FDA's Orange Book is widely used by both the regulatory community and by physicians in order to identify which drugs are substitutable for one another. The Purple Book is intended to be used in the same way. FDA states that 'the Purple Book will enable a user to see whether a biological product licensed under section 351(k) of the PHS Act has been determined by FDA to be biosimilar to or interchangeable with a reference biological product'.

The Purple Book lists will be 'updated periodically', however, no timescale for updates is provided by FDA.

Related Article
Assessment of interchangeability under the BPCI Act

Assessment of biosimilarity under the BPCI Act

Naming and interchangeability of biosimilars raised in new survey

Reference
1. GaBI Online - Generics and Biosimilars Initiative. FDA releases draft guidance on reference product exclusivity for biologicals [www.gabionline.net]. Mol, Belgium: Pro Pharma Communications International; [cited 2014 Sep 12]. Available from: www.gabionline.net/Guidelines/FDA-releases-draft-guidance-on-reference-product-exclusivity-for-biologicals

Permission granted to reproduce for personal and non-commercial use only. All other reproduction, copy or reprinting of all or part of any 'Content' found on this website is strictly prohibited without the prior consent of the publisher. Contact the publisher to obtain permission before redistributing.

Copyright – Unless otherwise stated all contents of this website are © 2014 Pro PharmaCommunications International. All Rights Reserved.