TNF copy biological approved in China Posted 20/05/2011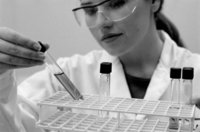 China-based Simcere Pharmaceutical Group (Simcere) announced on 9 May 2011 that Shanghai Celgen Bio-Pharmaceutical (Shanghai Celgen) has received approval for Qiangke – a copy biological version of etanercept – by the Chinese authorities.
Simcere owns 35% of Shanghai Celgen. Qiangke is a recombinant human tumour necrosis factor (TNF) receptor-IgG fusion protein for injection. It is used for treatment of ankylosing spondylitis—a type of spondyloarthritis affecting the lower back. It is also indicated for other automimmune diseases such as psoriasis, rheumatoid arthritis and psoriatic arthritis.

Shanghai Celgen is currently preparing for the expected good manufacturing practice inspection by the Chinese State Food and Drug Administration.

Simcere believes that the product holds strong market potential. This is probably not unfounded, since Pfizer/Amgen which produce the originator version of etanercept (Enbrel) posted record sales of US$3,274 million in 2010.

The US patent on Enbrel expires in October 2012, which opens up the market for biosimilars or copy biologicals, such as Shanghai Celgen's, to bite a chunk out of the massive etanercept pie.

China, one of the largest pharmaceutical markets in the world, has yet to issue biosimilars guidelines, although domestic copy biologicals have been on the market in China for 20 years. Copy biologicals in China therefore have to go through a new drug or generic drug approval process.

Editor's Comment
The question is whether such copy biologicals approved in China can also meet the stringent requirements for comparability required by the EMA for approval in the EU.

Please feel free to share your thoughts via email or in the comments section below. What are your views on biosimilars approved in other regions of the world? How do you think these biosimilars, or as some call them 'alternative' biologicals, compare to those approved in the EU?

Related article

2012's biggest patent expiries

Permission granted to reproduce for personal and educational use only. All other reproduction, copy or reprinting of all or part of any 'Content' found on this website is strictly prohibited without the prior consent of the publisher. Contact the publisher to obtain permission before redistributing.
Comments (1)
Biogenerics - challenges getting into US posted 24/09/2011 - by Vinay Konaje
Fact is if the Americans are hell bent on fooling themselves by trying to block competition from follow-on biologics, there really is nothing that the rest of the world can or will want to do. Lets see how long the originator companies are able to price their drugs atrociously even in the US. Finally somebody has to pay for it and something will give way.