Biologicals boom Posted 15/02/2013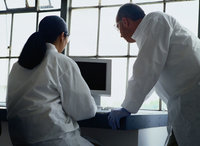 Researchers predict that the present list of top 10 blockbuster drugs will change dramatically by 2014. The predictions are that by 2014 biological drugs will topple the present market leaders Pfizer's Lipitor (atorvastatin) and Sanofi's Plavix (clopidogrel), both of which are small molecule chemical entities [1].
By 2014 at least six out of the top 10 best-selling drugs are expected to be biological drugs, mainly for treating cancer and rheumatoid arthritis. This compares to five drugs making it into the top 10 during 2008 and just one in 2000, see Table 1.

Table 1: Top 10 best-selling medicines 2010


The situation is predicted to change dramatically by 2014, see Table 2. At least six, and as many as eight, of the top 10 best-selling drugs are expected to be biological drugs. Moreover, biological drugs are predicted to account for 75% of sales, an almost two-fold increase in the relative contributions of biological drugs to the pharmaceutical sector.

Table 2: Predicted top 10 best-selling medicines 2014


The reason for this expected change is generics competition for small molecule drugs that will be off patent by 2014, including current bestsellers Lipitor (atorvastatin), Plavix (clopidogrel), Advair (fluticasone/salmeterol) and Diovan (valsartan).

There is also an opportunity here for biosimilars, with an estimated US$17 billion worth of sales in biologicals in the US alone set to lose patent protection between 2011 and 2015.

Major biologicals facing loss of patent protection include Amgen and Pfizer's rheumatoid arthritis drug Enbrel (etanercept), Roche's blood cancer and rheumatoid arthritis medicine Rituxan (rituximab), and Merck and Johnson & Johnson's anti-inflammatory drug Remicade (infliximab). These three drugs alone are reported to have worldwide sales of more than US$12 billion in 2010 [2].

Related article

2013's biggest patent expiries

Reference

1. Tandon S, et al. Biotech drugs: the next boom in pharmaceutical market. Journal of Pharmaceutical Research and Opinion. 2011:1(3);76-9.

2. IMAP Healthcare Report 2011.

Permission granted to reproduce for personal and educational use only. All other reproduction, copy or reprinting of all or part of any 'Content' found on this website is strictly prohibited without the prior consent of the publisher. Contact the publisher to obtain permission before redistributing.