Biosimilars in the treatment of inflammatory bowel disease Posted 26/05/2017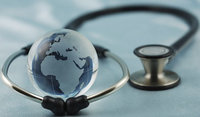 Inflammatory bowel disease (IBD) is mainly characterized by two chronic, relapsing, immune-mediated inflammatory diseases of the gastrointestinal tract: Crohn's disease and ulcerative colitis. Approximately 1.4 million Americans are affected by IBD and afflicted with recurrent symptoms of bloody diarrhoea, abdominal pain, bowel obstruction, and other co-morbid conditions. The introduction of biologicals, highly complex molecules manufactured from living organisms, was a revolutionary advance in treating threatening and life-debilitating inflammatory diseases. Biologicals, particularly those that target tumour necrosis factor (TNF) signalling, have provided IBD patients with an efficacious method of treatment with regards to symptom management and mucosal healing. Nevertheless, the rising prevalence of IBD worldwide and the ever-increasing cost burden of biologicals in the healthcare industry is alarming for insurance companies, clinicians and patients.
The impending patent expiry of certain biologicals and the relatively high costs of anti-TNF biological agents are factors that have paved the way for biosimilar development for IBD. The US Food and Drug Administration (FDA) defines a biosimilar as a biological product that is highly similar to its reference medicinal product (RMP), with no clinically meaningful differences in terms of safety, purity and potency.

Biosimilars, similarly to generics, represent competition towards brand-name drugs. Although a manufactured generic drug is an exact copy of the original small-molecule medicine, it is not possible to generate identical copies of a biological. Due to the inherent variability of the living bacteria-based systems used to make biosimilars, there is micro-heterogeneity between biosimilar and the RMP.

One of the major implications of biosimilar development is cost savings. The hope with biosimilars is that their entry into the market will be able to drive competition between pharmaceutical companies, like the generic market has, leading to significant price reductions. Furthermore, the introduction of biosimilars will seek to increase overall patient access to appropriate biological treatments in the long term. However, there are challenging issues such as indication extrapolation, immunogenicity and interchangeability that continue to be debated in the field of IBD and must be addressed in future issued guidance.

Currently, only two biosimilars have been approved by FDA for use in IBD in the US: Inflectra (infliximab-dyyb) and Amjevita (adalimumab-atto). However, there are numerous additional biosimilars for IBD still in the development pipeline. This review discusses several major issues, such as immunogenicity and interchangeability, and implications concerning the use of biosimilar therapy for IBD, in addition to the state of IBD biosimilar development [1].

Related articles
European IBD specialists support switching to biosimilars

European paediatricians advocate biosimilar trials in children with IBD

Reference
1. Zheng MK, Shih DQ, Chen GC. Insights on the use of biosimilars in the treatment of inflammatory bowel disease. World J Gastroenterol. 2017;23(11):1932-43.

Permission granted to reproduce for personal and non-commercial use only. All other reproduction, copy or reprinting of all or part of any 'Content' found on this website is strictly prohibited without the prior consent of the publisher. Contact the publisher to obtain permission before redistributing.

Copyright – Unless otherwise stated all contents of this website are © 2017 Pro Pharma Communications International. All Rights Reserved.