Candidate infliximab biosimilar SB2 equivalent to Remicade Posted 23/10/2015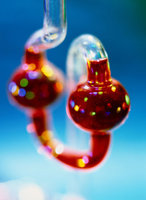 Results from a phase III clinical trial for a candidate biosimilar version of infliximab in patients suffering from rheumatoid arthritis has shown SB2 to be equivalent to Remicade [1].
The study evaluated the safety, efficacy, immunogenicity and pharmacokinetics of the candidate infliximab biosimilar (SB2) from Merck and Samsung Bioepis (a Biogen and Samsung joint venture) versus Johnson & Johnson's blockbuster autoimmune disease treatment Remicade (infliximab) in subjects with moderate to severe rheumatoid arthritis despite methotrexate therapy.

Remicade is a chimeric monoclonal antibody against tumour necrosis factor alpha (TNF-α). It is used to treat autoimmune diseases such as ankylosing spondylitis, Crohn's disease, psoriasis, psoriatic arthritis, rheumatoid arthritis and ulcerative colitis.

The phase III, randomized, double-blind, parallel group, multicentre study was carried out in Bulgaria and Lithuania and consists of a 54-week main study and an additional 24-week transition (switching) study [1]. The trial enrolled 584 patients; 291 patients received SB2 and 293 patients received Remicade 3 mg/kg intravenously over a 2-hour period at week 0, week 2, week 6, week 14, week 22, week 30, week 38 and week 46.

The results of the 54-week main study up to week 30 are presented in this article. The primary endpoint in the study was the American College of Rheumatology 20% response criteria (ACR20) at week 30 of treatment.

The ACR20 for the per protocol set (PPS) was 64.1% for SB2 and 66.0% for Remicade. The 95% confidence interval (CI) for the rate difference was −10.26% to 6.51%, which was within the pre-specified equivalence margin of ± 15%. Other efficacy outcomes, such as ACR50 or ACR70 were also similar. The ACR20 response at each visit was also similar between SB2 and Remicade; the two time-response curves were determined to be equivalent.

During the 30-week period 499 treatment-emergent AEs (TEAEs) occurred in 167 patients (57.6%) in the SB2 group and 529 TEAEs occurred in 170 patients (58.0%) in the Remicade group. Overall, the safety profile was comparable between SB2 and Remicade.

There was no significant difference in the number of patients that developed anti-drug antibodies (ADA) to infliximab between the two groups and pharmacokinetic results were also similar.

The authors therefore concluded that the results 'demonstrate the equivalence of efficacy between SB2 and [Remicade] as well as the comparability in safety, immunogenicity and [pharmacokinetic] profiles'.

Samsung Bioepis announced on 13 March 2015 that its infliximab biosimilar candidate, SB2, had been accepted for review by the European Medicines Agency (EMA) [2].

Conflict of interest
The authors of the research paper [1] have received grant/research support from Samsung Bioepis or are employees of Samsung Bioepis. Some of the authors have worked as consultants for Samsung Bioepis and other pharmaceutical companies. For full details of the authors conflicts of interest see the research paper [1].

Related articles
Biosimilars applications under review by EMA – August 2015

References
1. Choe JY, Prodanovic N, Niebrzydowski J. A randomised, double-blind, phase III study comparing SB2, an infliximab biosimilar, to the infliximab reference product Remicade in patients with moderate to severe rheumatoid arthritis despite methotrexate therapy. Ann Rheum Dis. 2015 Aug 28. pii: annrheumdis-2015-207764.
2. GaBI Online - Generics and Biosimilars Initiative. Samsung Bioepis submits second biosimilar to EMA [www.gabionline.net]. Mol, Belgium: Pro Pharma Communications International; [cited 2015 Oct 23]. Available from: www.gabionline.net/Biosimilars/News/Samsung-Bioepis-submits-second-biosimilar-to-EMA

Permission granted to reproduce for personal and non-commercial use only. All other reproduction, copy or reprinting of all or part of any 'Content' found on this website is strictly prohibited without the prior consent of the publisher. Contact the publisher to obtain permission before redistributing.

Copyright – Unless otherwise stated all contents of this website are © 2015 Pro Pharma Communications International. All Rights Reserved.