Challenges and opportunities in producing biosimilars Posted 20/10/2017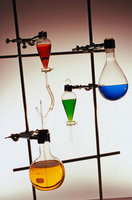 In a viewpoint article published in ACS Medicinal Chemistry Letters [1], Dahodwala and Sharfstein discuss the challenges and opportunities faced by biopharmaceutical manufacturers in producing biosimilars, equivalent versions of therapeutic proteins, and the role of regulatory agencies, particularly the US Food and Drug Administration (FDA), in approving these compounds.
With 10 blockbuster biological drugs, with annual sales of more than US$2 billion, expected to be off patent by 2020, there is considerable interest in manufacturing biosimilar versions of originator products by leading pharmaceutical manufacturers.

Therapeutic protein-based molecules differ from traditional pharmaceuticals, e.g. aspirin, acetaminophen, due to their sheer size and complexity. The preservation of a therapeutic protein's size and complexity is imperative because it has a direct impact on its function, stability and immunogenicity. It is a daunting challenge to reproduce an originator's molecule due to the inherent differences imparted to a product by cell line, process and formulation, which, in many cases, are undisclosed or proprietary. There is therefore an appreciation that protein drugs can never be fully replicated, which is reflected even in specifications given by FDA: The primary specification is demonstration of 'no clinically meaningful differences in terms of safety and effectiveness from the reference product'.

With this in mind, the authors discuss the various challenges that are encountered in the field of biopharmaceutical manufacturing due to both the complexity of the molecule as well as the complexity of the manufacturing process. They review FDA's perspective on licensing biosimilars: both from an overview of existing guidelines for allowable biopharmaceutical product deviations from major changes by the originator (such as site of manufacture) as well as a comparison with European and Asian regulatory practices.

The authors propose that innovations from biopharmaceutical companies to re-create complex protein modifications, improved analytical techniques to demonstrate significant protein quality factors (critical quality attributes) and clear guidelines on biosimilar manufacturing to set regulatory standards will improve access to these important therapeutics worldwide, lower prices and address safety and efficacy concerns.

Conflict of interest
The authors of the research paper [1] declared that the views expressed in the editorial are those of the authors and not necessarily the views of the ACS. They also declared that there were no competing financial interests.

Abstracted by Susan Sharfstein, Professor of Nanobioscience, Fulbright Global Scholar 2017-2018, SUNY Polytechnic Institute, College of Nanoscale Science and Engineering, Albany, NY, USA.

Related articles
Biosimilars approved in the US

Biosimilars approved in Europe

Reference
1. Dahodwala H, Sharfstein ST. Biosimilars: imitation games, ACS Med Chem Lett. 2017;8:690-3.

Permission granted to reproduce for personal and non-commercial use only. All other reproduction, copy or reprinting of all or part of any 'Content' found on this website is strictly prohibited without the prior consent of the publisher. Contact the publisher to obtain permission before redistributing.

Copyright – Unless otherwise stated all contents of this website are © 2017 Pro Pharma Communications International. All Rights Reserved.