Home / Biosimilars / Research / Physicochemical and biological characterization study of copy biological tocilizumab
Physicochemical and biological characterization study of copy biological tocilizumab Posted 10/11/2017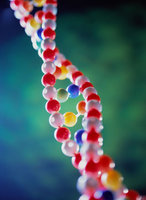 Researchers in China have developed a copy biological of F. Hoffmann-La Roche's (Roche) arthritis treatment Actemra (tocilizumab). A recent study compares it to the originator, finding it to be highly similar in terms of its physical, chemical and biological characteristics [1].
Unlike small molecule therapeutics, biological drugs are based on natural sources (such as proteins, nucleic acids or even cells) and include vaccines, gene therapy and blood components such as antibodies. Indeed, some of the best-selling drugs in the world are antibody-based and in particular monoclonal antibodies (antibodies made by identical immune cells that bind to one substance) are becoming increasingly popular therapeutically.

The monoclonal antibody tocilizumab is an immunosuppressant used to treat rheumatoid arthritis, a long-term autoimmune condition that affects almost 25 million people. The drug works by blocking the cytokine IL-6, which attracts immune cells to cause inflammation. It was originally developed by Roche and can also be used to treat a severe form of arthritis in children, some forms of cancer and inflammation of the blood vessels.

China's Hisun Pharmaceuticals has now developed a copy biological of the drug. In order to market the copy biological (currently named HS628), they must first show that the drug is of the same quality, safety and efficacy as the originator reference product.

Although a copy biological does not need to be exactly the same as the reference product, it must have the same 'critical quality attributes', which include physical, chemical and biological properties. This could be charge, size, structure and ability to bind a receptor, for example.

A recent study used state-of-the-art techniques to assess the physicochemical and biological characteristics of the biosimilar compared to originator tocilizumab [1].

To prove the similarity of the drug, the researchers used a range of techniques that are commonly used to assess copy biologicals, including chromatography, cell-based bioassays and mass spectrometry, to detect differences in protein structure and function.

They found that HS628 has an identical amino acid sequence to tocilizumab, and the same structure. The drug also had similar post-translational modifications, charge and size to the originator drug. Size exclusion chromatography and capillary electrophoresis confirmed the purity of the copy biological.

In biological terms, key tests of the copy biological are how well it binds to and neutralizes the IL-6 receptor. The researchers performed a range of bioassays including binding tests and an anti-proliferation assay to provide a comprehensive assessment of its function, compared to originator tocilizumab.

This showed that HS628 has a highly similar ability to bind to relevant receptors and to inhibit proliferation. It is also equally able to inhibit the activation of the transcription factor STAT3, over-activation of which is associated with autoimmune disease and cancer.

Based on this research, the authors conclude that this tocilizumab copy biological can be considered highly similar to the originator drug, both in terms of its biological and physicochemical properties.

They further describe a comparative animal toxicity study conducted to evaluate the safety of the product, as required by China FDA's Good Laboratory Practice. They found no significant differences between HS628 and originator tocilizumab, in addition, HS628 was observed to exhibit a similar pharmacokinetic profile compared to that of the originator tocilizumab following a single-dose injection in cynomolgus. The author therefore suggest that the copy biological would show comparable potency and safety as the reference originator product in future clinical trials.

Conflict of interest
The authors of the research paper [1] declared that there was no conflict of interest.

Editor's comment
It should be noted that 'copy biologicals' approved in China might not have been authorized following as strict a regulatory process as is required for approval of biosimilars in the European Union. The EMA (European Medicines Agency) regulatory requirements ensure the same high standards of quality, safety and efficacy for biosimilars as for originator biologicals, and also include a rigorous comparability exercise with the reference product.

Readers interested to learn more about biosimilars for the treatment of rheumatoid arthritis are invited to visit www.gabi-journal.net to view the following manuscripts published in GaBI Journal:

Efficacy and safety of biosimilar infliximab compared to other biologicals in rheumatoid arthritis

Switching from the infliximab reference product to CT-P13 in patients with rheumatoid arthritis or ankylosing spondylitis: results of the PLANETAS and PLANETRA extension studies

GaBI Journal is indexed in Embase, Scopus, Thomson Reuters' ESCI, and more.

Readers interested in contributing a research or perspective paper to GaBI Journal – an independent, peer reviewed academic journal – please send us your submission here.

Related articles
Biosimilars of tocilizumab

Reference
1.Miao S, Fan L, Zhao L, Ding D, Liu X, Wang H, Tan W. Physicochemical and biological characterization of the proposed biosimilar tocilizumab. Biomed Res Int. 2017;2017:4926168. doi: 10.1155/2017/4926168. Epub 2017 Mar 2.

Permission granted to reproduce for personal and non-commercial use only. All other reproduction, copy or reprinting of all or part of any 'Content' found on this website is strictly prohibited without the prior consent of the publisher. Contact the publisher to obtain permission before redistributing.

Copyright – Unless otherwise stated all contents of this website are © 2017 Pro Pharma Communications International. All Rights Reserved.