Positive phase III results for cetuximab and infliximab copy biologicals Posted 05/02/2016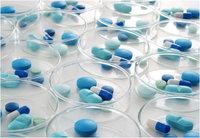 US-based biopharmaceutical company Sorrento Therapeutics (Sorrento) announced on 11 January 2016 that its partner, MabTech had successfully completed phase III clinical trials in China for STI-001, a copy biological for cetuximab (Erbitux) and STI‑002, a copy biological for infliximab (Remicade). Both STI-001 and STI-002 met their primary endpoints in confirmatory, randomized, controlled, two-part phase III studies.
The two companies entered into a deal back in August 2015, when MabTech, a holding company for China mAb Biotechs, in-licensed four monoclonal antibodies to Sorrento. All of the candidate copy biologicals had completed phase III trials in China.

Cetuximab is a chimeric (mouse/human) monoclonal antibody. It inhibits epidermal growth factor receptor (EGFR) and is used to treat metastatic colorectal cancer, metastatic non-small cell lung cancer and head and neck cancer.

STI-001 was used for treatment of EGFR-expressing metastatic colorectal carcinoma patients in combination with irinotecan versus irinotecan alone. The combination therapy showed significant improvement compared to chemotherapy alone in Overall Response Rate (ORR: 32.9% vs 12.8%) and Progress-free Survival (PFS: 5.6 vs 3.2 months) as well as longer Overall Survival (OS: 14.1 vs 13.4 months). The ORR, PFS and OS using STI-001 and irinotecan were increased significantly compared to previously reported results in similar medical settings using Erbitux and irinotecan (32.9% vs 10%; 5.6 vs 4.0 months; 14.1 vs 11.6 months).

During the double-blind, randomized, phase III trial, which included 501 patients, STI-001 was well tolerated. Adverse events (AEs), especially Grade 3 and 4 AEs were found to be significantly fewer than those previously reported using Erbitux. This could be due to the fact that STI-001 is produced using CHO cells, possessing N‑Acetylneuraminic acid (NANA), whereas Erbitux is made in the murine SP2/0 cell line and contains N-Glycolyneuraminic acid (NGNA), which is believed to cause side effects, such as immunogenicity and hypersensitivity. According to Sorrento, it has been reported that more than 10% of patients using Erbitux showed hypersensitive reactions (Grade 3/4), whereas none were recorded in the completed phase III study of STI-001.

Infliximab is a chimeric monoclonal antibody against tumour necrosis factor alpha (TNF-α). It is used to treat autoimmune diseases, such as ankylosing spondylitis, Crohn's disease, psoriasis, psoriatic arthritis, rheumatoid arthritis, and ulcerative colitis.

The phase III study of STI-002 was conducted in 330 rheumatoid arthritis (RA) patients. STI-002 demonstrated an improvement in RA patients' pain symptoms, functions, quality of life and inflammation markers while also inhibiting bone and joint injuries. STI-002 (3 mg/kg) plus methotrexate demonstrated significant improvement in ACR 20, 50 and 70 (77%, 50% and 20%, respectively) and similar clinical efficacy to Remicade. While Sorrento also stated that 'the immunogenicity and anti-drug antibody formation (ADA) is drastically reduced for STI-002 compared to Remicade (< 5% vs ~40%)'.

Editor's comment
It should be noted that 'copy biologicals' approved in China might not have been authorized following as strict a regulatory process as is required for approval of biosimilars in the European Union. The EMA (European Medicines Agency) regulatory requirements ensure the same high standards of quality, safety and efficacy for biosimilars as for originator biologicals, and also include a rigorous comparability exercise with the reference product.

Related articles
Biosimilars of cetuximab

Permission granted to reproduce for personal and non-commercial use only. All other reproduction, copy or reprinting of all or part of any 'Content' found on this website is strictly prohibited without the prior consent of the publisher. Contact the publisher to obtain permission before redistributing.

Copyright – Unless otherwise stated all contents of this website are © 2016 Pro Pharma Communications International. All Rights Reserved.