Home / Biosimilars / Research / Structure-function relationship between disulfide bonds and TNF-α neutralization in etanercept
Structure-function relationship between disulfide bonds and TNF-α neutralization in etanercept Posted 09/02/2018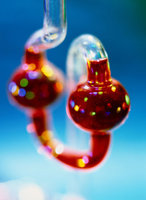 Research carried out by Sandoz describes how a novel incorrect disulfide bridge structure present at low levels in commercial etanercept inhibits etanercept potency by reducing its ability to neutralize soluble tumour necrosis factor alpha (TNF-α) [1].
Although previous reports have speculated that product impurities present in etanercept may impact its potency, this research represents the first description of a clear structure – function relationship between incorrect disulfide bridging and TNF-α neutralization in vitro.

The study describes novel methodology for the characterization and quantitation of the incorrect disulfide impurity and demonstrates that increased levels of incorrect disulfide bridging in commercial Enbrel (etanercept) batches explain a recent decrease in its potency. Notably, this finding was of regulatory importance for the US Food and Drug Administration (FDA) approval of the etanercept biosimilar Erelzi [2, 3].

Specifically, Erelzi was developed in line with biosimilar guidance to contain consistent low levels of the incorrect disulfide bridge impurity and consistent high potency within the range of the reference medicine. Nonetheless, the variability of this impurity in the reference medicine, Enbrel, resulted in a shift in its mean potency over time and precluded demonstration of comparable mean values using the predefined FDA acceptance criteria of equivalence testing. This regulatory hurdle was resolved by additional studies described in the research article, demonstrating that incorrect disulfide bridging is corrected under in vivo-like redox conditions, normalizing mean Enbrel potency and allowing fulfilment of equivalence testing.

Conflict of interest
The authors of the research paper [1] are all employees of Sandoz or Novartis. For full details of the authors' conflict of interest, see the research paper [1].

Abstracted by Dr William Christopher Lamanna, PhD, Global Scientific Affairs Manager, Sandoz Biopharmaceuticals, Sandoz GmbH, Kundl, Austria.

Editor's comment
Readers interested to learn more on the importance of manufacturing consistency of monoclonal antibody are invited to visit www.gabi-journal.net to view the following manuscripts published in GaBI Journal:

Importance of manufacturing consistency of the glycosylated monoclonal antibody adalimumab (Humira®) and potential impact on the clinical use of biosimilars

GaBI Journal is indexed in Embase, Scopus, Thomson Reuters' ESCI, and more.

Readers interested in contributing a research or review paper to GaBI Journal – an independent, peer reviewed academic journal – please send us your submission here.

Related article
Etanercept biosimilar SB4 less immunogenic than Enbrel

References
1. Lamanna WC, Mayer RE, Rupprechter A, Fuchs M, Higel F, Fritsch C, et al. The structure-function relationship of disulfide bonds in etanercept. Sci Rep. 2017;7(1):3951.
2. GaBI Online - Generics and Biosimilars Initiative. FDA approves biosimilar etanercept Erelzi [www.gabionline.net]. Mol, Belgium: Pro Pharma Communications International; [cited 2018 Feb 9]. Available from: www.gabionline.net/Biosimilars/News/FDA-approves-biosimilar-etanercept-Erelzi
3. U.S. Food & Drug Administration. Briefing information for the July 13, 2016 meeting of the Arthritis Advisory Committee (AAC) [homepage on the Internet]. [cited 2018 Feb 9]. Available from: www.fda.gov/AdvisoryCommittees/CommitteesMeetingMaterials/Drugs/ArthritisAdvisoryCommittee/ucm510492.htm

Permission granted to reproduce for personal and non-commercial use only. All other reproduction, copy or reprinting of all or part of any 'Content' found on this website is strictly prohibited without the prior consent of the publisher. Contact the publisher to obtain permission before redistributing.

Copyright – Unless otherwise stated all contents of this website are © 2018 Pro Pharma Communications International. All Rights Reserved.