Switching to etanercept biosimilar SB4 safe and effective in a hospital setting Posted 26/10/2018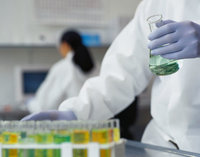 Authors of a study carried out at a UK hospital found switching to etanercept biosimilar SB4 to be safe and effective [1].
Authors from the rheumatology department of the Russells Hall Hospital, Dudley, UK, carried out an audit to compare the clinical efficacy and safety profile of etanercept biosimilar SB4 (post switch) with originator etanercept Enbrel (pre-switch).

Benepali (SB4) was approved in the European Union on 14 January 2016 for the treatment of axial spondyloarthritis, psoriatic arthritis, plaque psoriasis, rheumatoid arthritis [2]. It was launched in the UK in February 2016 for use in all adult indications for which the reference etanercept is approved.

A total of 194 patients established on reference etanercept for more than 12 months in the Dudley area of the UK were included in the study. Of those, 160 (83%) were successfully switched at the time of audit. The first 50 that switched were sampled and followed up for 6 months. Of those 50 patients, 32 (64%) had rheumatoid arthritis (RA), 15 (30%) ankylosing spondylitis (AS) and 3 (6%) psoriatic arthritis (PsA).

The results showed that in the RA cohort: 23(72%) patients were female with mean change of Disease Activity Score or 28 joints (DAS28) of +0.1 (SD: 0.87). In the AS cohort, 14(93%) patients were male with mean change of Bath Ankylosing Spondylitis Disease Activity Index (BASDAI) of -0.6 (SD: 1.34). For the PsA cohort two patients' symptoms were unchanged, 1 patient's tender and swollen joint count decreased. At 6-months post-switch, 84% patients continued on the etanercept biosimilar SB4. Reasons for discontinuation included: adverse event (n = 4), lack of efficacy (n = 3) and new contraindication (cancer n = 1).

These results showed that there were no clinically significant changes in DAS28 or BASDAI during the audit period. The authors noted that 'switching from reference etanercept to SB4 has resulted in a potential yearly saving of GBP 660,000, from which the rheumatology department has secured funding to employ an additional clinical nurse specialist and secretary. 'The authors concluded that their 'audit found SB4 to be as safe and effective as its reference etanercept and has demonstrated a positive experience with biosimilar switching. This is relevant given the expiry of biological drugs patent protections and further biosimilar drugs becoming available'.

Conflict of interest
The authors of the research paper [1] declared that there was no conflict of interest.

Editor's comment
It should be noted that data of the study presented in this article was published as an abstract and presented at a conference. These data and conclusions should be considered as preliminary until published in a peer-reviewed journal.

Related articles
Etanercept biosimilar SB4 less immunogenic than Enbrel

References
1. Ma J, Petford S, Jones L, Douglas K, John H. Abstract AB0447: Audit of the clinical efficacy and safety of etanercept biosimilar to its reference product in patients with inflammatory arthritis: experience from a district general hospital in the United Kingdom. Annals Rheum Dis. 2018;77(Suppl-2): doi:10.1136/annrheumdis-2018-eular.2498
2. GaBI Online - Generics and Biosimilars Initiative. Biosimilars approved in Europe [www.gabionline.net]. Mol, Belgium: Pro Pharma Communications International; [cited 2018 Oct 26]. Available from: www.gabionline.net/Biosimilars/General/Biosimilars-approved-in-Europe

Permission granted to reproduce for personal and non-commercial use only. All other reproduction, copy or reprinting of all or part of any 'Content' found on this website is strictly prohibited without the prior consent of the publisher. Contact the publisher to obtain permission before redistributing.

Copyright – Unless otherwise stated all contents of this website are © 2018 Pro Pharma Communications International. All Rights Reserved.