The biosimilars market in Latin America: a summary Posted 28/08/2020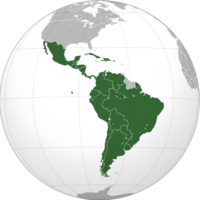 A review of the biosimilars market in Latin America [1] finds that Argentina, Brazil and Mexico have the largest number of approved similar biotherapeutic products (SBPs), while information in other countries is more limited. The review recommends investment in biotechnology hubs and further development of regulation on biological drugs.
Although regulation varies widely by country, there are a number of SBPs approved and marketed in Latin America [2]. A recent review [1] has summarized the development of SBPs in the Latin American region.

The authors say that developing SBPs in Latin America is complex due to differences in economic, political, regulatory and cultural context by country, and in particular differences in government policy, regulatory agencies, public and private health providers, and pharmaceutical companies.

The researchers searched various data sources, including research papers, trade publications, government documents, official statistics and technical reports, for descriptions of the market for similar biotherapeutic products in Latin America.

They found that Argentina, Brazil and Mexico have the largest number of approved SBPs in the region. Mexico was the biggest exporter of pharmaceutical products among the Latin American countries in 2015, however, Brazil is also a major global drug producer.

In the Andean community of nations (which includes Bolivia, Colombia, Ecuador and Perú) there are a total of 14 SBPs approved. In Ecuador for example, the government-owned pharmaceutical company Enfarma EP registered the first SBP version of infliximab in 2014. However, data suggest commercialization of the product was unsuccessful. In Perú, the Ministry of Health released a national biosimilar regulatory framework in 2016 in an effort to boost the domestic biologicals market.

In the MERCOSUR trade bloc (which includes Chile, Paraguay, Uruguay and Venezuela), 17 SBPs are approved. However, of these Uruguay has only one approved SBP. The political context in these countries is complex, especially in Venezuela which is currently facing a major economic crisis.

Less information was available for Costa Rica and Cuba, although the authors found that in 2015 the Costa Rican Social Security Fund invested approximately US$24 million in the purchase of biological drugs. In Cuba, the Ministry of Public Health issued a resolution which stimulated growth in the biotechnology industry and created a government-owned pharmaceutical company, BioCubaFarma.

Overall, the authors say that the market for SBPs in Latin America is fragmented and only the larger countries, such as Argentina and Brazil, are attractive to international suppliers of biosimilars. These leading countries therefore lead manufacturing and commercialization in the region.

However, they also say that investment in SBPs in Latin American countries is increasing annually, with many regulatory authorities being redesigned for the approval of these products.

In terms of quality, the authors note that comparability exercises are not always mandatory in Latin America and so some SBPs produced in the region may not have the same clinical performance as the originator.

To strengthen the SBPs market in Latin America, which currently relies on imported products, the researchers recommend investment in biotechnology hubs and the development of robust guidelines for biological and biosimilar medicines.

Conflict of interest
Lead author of the paper [1] Dr Esteban Ortiz-Prado worked for Enfarma EP, a government-funded pharmaceutical company in Ecuador. The author declares that none of the comments made in this manuscript have been influenced by his employment at Enfarma EP. The remaining authors declare no conflict of interest.

Editor's comment
Readers interested to learn more about biosimilars in Latin America are invited to visit www.gabi-journal.net to view the following manuscripts published in GaBI Journal:

Payer and physician evidence and discount requirements for biosimilars in three Latin American countries

Recommendations for the regulation of biosimilars and their implementation in Latin America

Online biosimilars resource for patients across Latin America

Readers interested in contributing a research or perspective paper to GaBI Journal – an independent, peer reviewed academic journal – please send us your submission here.

Related articles
Celltrion launches Truxima in Brazil

Brazilian efficacy and safety data for biosimilar infliximab CT-P13 in the treatment of psoriasis and psoriatic arthritis

Recommendations for similar biotherapeutic products published by Latin American MS experts

References
1. Ortiz-Prado E, Ponce-Zea J, Vasconez JE, Castillo D, Checa-Jaramilloz DC, Rodrí­guez-Burneo N, et al. Current trends for biosimilars in the Latin American market. 2020;9(2):64-74. doi:10.5639/gabij.2020.0902.011
2. GaBI Online - Generics and Biosimilars Initiative. Similar biotherapeutic products approved and marketed in Latin America [www.gabionline.net]. Mol, Belgium: Pro Pharma Communications International; [cited 2020 Aug 28]. Available from: www.gabionline.net/Biosimilars/General/Similar-biotherapeutic-products-approved-and-marketed-in-Latin-America

Permission granted to reproduce for personal and non-commercial use only. All other reproduction, copy or reprinting of all or part of any 'Content' found on this website is strictly prohibited without the prior consent of the publisher. Contact the publisher to obtain permission before redistributing.

Copyright – Unless otherwise stated all contents of this website are © 2020 Pro Pharma Communications International. All Rights Reserved.