FDA approves rare disease deflazacort at exorbitant price Posted 17/03/2017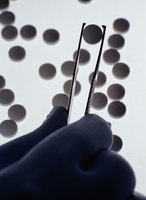 Deflazacort is a steroid treatment that has long been approved in many countries outside the US. In February 2016, the US Food and Drug Administration (FDA) approved Marathon Pharmaceuticals' deflazacort (Emflaza) for the treatment of Duchenne muscular dystrophy. However, it is reported that the drug will come with a devastating price-tag of US$89,000 a year, far more than prices charged abroad.
Duchenne muscular dystrophy is a severe and rare type of muscular dystrophy. It is reported to affect approximately 15,000 people in the US and leaves sufferers with a life expectancy of just 25−30 years. FDA reportedly gave Marathon Pharmaceuticals approval for deflazacort with an 'orphan drug' status which covers drugs that treat rare diseases. As a result of this status, Marathon has exclusive sales rights over deflazacort in the US for the next seven years.

In countries such as Canada, where the drug has been approved for years, it is available as a generic and can cost as little as US$1,200 for a year's supply. US-based Marathon Pharmaceuticals' CFO, Babar Ghias, reportedly told theWashington Postthat the list price of US$89,000 a year is not what a patient will pay. He claimed that, after rebates and discounts, the price would drop to US$54,000. He added that, insurance and financial programmes available will mean that most patients will pay little or nothing for the treatment.

The 'orphan drug' approval pathway was set up to encourage the development of drugs for very rare diseases. However, in this case, the drug was already available as a generic in other countries and was not developed by Marathon. In addition, following FDA approval, Marathon received a 'priority review' voucher which is designed to help the company get a future drug reviewed by regulators faster. It is there to act as an incentive for companies to invest in the development of new drugs. However, in this case a previously developed drug earned the voucher, which is reported to have raised questions over whether development incentives are being misapplied. It is also claimed that such a voucher could be sold on to other pharmaceutical companies for hundreds of millions of dollars.

Related articles
Novo Nordisk becomes second pharma company to cap price hikes

Policies to address price rises in old generics

Permission granted to reproduce for personal and non-commercial use only. All other reproduction, copy or reprinting of all or part of any 'Content' found on this website is strictly prohibited without the prior consent of the publisher. Contact the publisher to obtain permission before redistributing.

Copyright – Unless otherwise stated all contents of this website are © 2017 Pro Pharma Communications International. All Rights Reserved.