Teva receives FDA approval for Sabril and launches Elidel cream Posted 01/02/2019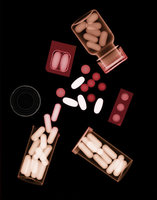 In January 2019, Teva Pharmaceutical Industries (Teva) received US Food and Drug Administration (FDA) approval for its first generic version of Sabril (vigabatrin) and launched a generic version of Elidel (pimecrolimus) cream, 1%, in the US.
Teva's generic Sabril (vigabatrin), available as 500 mg tablet, was approved by US Food and Drug Administration (FDA) for the treatment of complex partial seizures as an adjunctive therapy in patients 10 years and older who have responded inadequately to several alternative (refractory) treatments. Complex partial seizures, also known as focal seizures, are a common type of seizure which start in a single area of the brain (often the temporal lobe) and may affect consciousness. They typically last between 30 and 90 seconds, and are frequently followed by a period of confusion, disorientation, and/or fatigue. Labelling for vigabatrin tablets includes a warning for permanent vision loss. Teva's vigabatrin is part of a single shared-system Risk Evaluation and Mitigation Strategy (REMS) programme with other drug products containing vigabatrin, to manage the risk of vision loss.

FDA Commissioner Scott Gottlieb highlights the importance of high quality generics in advancing access: 'Prioritizing the approval of generic drugs to compete with medicines that face little or no competition is a key part of our efforts to support access and reduce drug costs to patients. We know there has been past interest in developing a generic drug alternative to this product. Earlier this year, we also highlighted this drug, along with many others, on a list of off-patent, off-exclusivity branded drugs without approved generics, to clarify that there were no patents or exclusivities that should impede its approval'.

Teva's generic Elidel (pimecrolimus) cream, 1%, launched in the US in early January 2019 is a topical prescription medicine to be used as second-line therapy for the short-term and non-continuous chronic treatment of mild to moderate eczema (atopic dermatitis). It is indicated for use in non-immunocompromised adults and children at least two years of age who have failed to respond adequately to other topical prescription treatments, or when those treatments are not advisable. According to IQVIA data in October 2018, Elidel cream, 1%, had annual sales of approximately US$218.4 million in the US.

Related articles
Generics applications under review by EMA – January 2019

Teva launches generic tadalafil but delays launch of generic Suboxone

Permission granted to reproduce for personal and non-commercial use only. All other reproduction, copy or reprinting of all or part of any 'Content' found on this website is strictly prohibited without the prior consent of the publisher. Contact the publisher to obtain permission before redistributing.

Copyright – Unless otherwise stated all contents of this website are © 2019 Pro Pharma Communications International. All Rights Reserved.