Compliance with generic drug use among Pakistani immigrants Posted 10/06/2011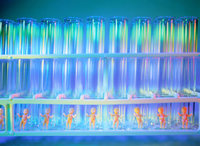 Patients using antihypertensives, antidiabetics or cholesterol-lowering drugs were interviewed using a questionnaire in the study which investigated the perceptions of generic substitution among Pakistani immigrants in Oslo, Norway, and how this affected compliance with their long-term drug use and may be affected by confusion of generic drugs with counterfeit drugs [1].
A total of 43% of patients found it difficult to remember to take their medication every day.

The results showed that reasons for not taking drugs included side effects and being dispensed generic drugs in the pharmacy. Lack of compliance was also more common in participants who did not speak good Norwegian.

Of those who had accepted generic substitution, many commented that it was difficult to know which drugs were replacing which, due to different shapes, colours and packaging. Others commented on the convenience of a blister pack.

Editor's Comment

This is perhaps something the generics industry needs to bear in mind when producing generics of well-known originators. Convenience for the patient, especially the elderly with reduced eyesight, will certainly go a long way towards improving compliance and an increasing acceptance of generic drugs.

Please feel free to share your thoughts via email to editorial@gabionline.net or in the comments section below. What are your views on whether generics should look the same—shape, size, colour— as the originator? How do you think this would affect, aid or hinder the generics industry?

Related articles

Perception of generic drugs as fake among Pakistani immigrants

Pakistani immigrants may confuse generic and counterfeit drugs

Reference

1. Håkonsen H, Toverud EL. Special challenges for drug adherence following generic substitution in Pakistani immigrants living in Norway. Eur J Clin Pharmacol. 2011;67:193-201.