Doctors in the US should remember to prescribe generics Posted 15/01/2016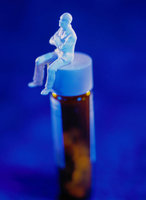 According to the findings of a literature review carried out by the American College of Physicians (ACP) the major obstacle to increased use of generics in the US is patient and provider perceptions.
The ACP carried out its literature review in order to answer five questions about generics: 1) How commonly are brand-name medications used when a generic version is available; 2) How does the use of generic medications influence adherence; 3) What is the evidence that brand-name and generic medications have similar clinical effects; 4) What are the barriers to increasing the use of generic medications; and 5) What strategies can be used to promote cost savings through greater generic medication use.

The review, which was carried out in 2014, identified five 'key articles' that provided high quality, relevant data, along with input from three other investigators who had conducted research on generics. For each key article, 100 'related articles' were identified by using this functionality in Google Scholar, resulting in a total of 2,500 potentially relevant citations that were reviewed.

In answer to the questions outlined above the review found that:

1) Healthcare providers frequently prescribe brand-name medications when generics are available.
2) Higher out-of-pocket costs for patients have consistently been associated with lower rates of long-term medication adherence.
3) Most of the peer-reviewed evidence has found that generics are as effective as their brand-name counterparts with regard to clinical outcomes.
4) Some of the underuse of generics is likely a result of patient and physician perceptions about the safety and efficacy of the lower-cost options. A national survey found that only 36% of patients prefer to use generics. While about 25% of physicians express concerns about the safety and efficacy of generics and prefer not to use them themselves or for their family. While differences in physical attributes, such as colour, shape, size, between generics and brand-name medicines is also thought to affect adherence [1].
5) Greater adoption of electronic medical records by providers could support generics use through notification of the formulary status of prescribed medications.

For patients targeted education about generics standards and bioequivalence may stimulate more value-conscious decision-making. Payers and policymakers have long attempted to promote generics use. Financial penalties for using expensive brand-name medication in the form of tiered formularies and greater co-payments are the most common application to address these concerns.

The ACP found in its review that, for example, in the case of diabetes, almost 45% of prescriptions are for a brand-name medication. It is estimated that Medicare could save up to US$1.4 billion if generics were used instead. In fact, the ACP found that given the large cost differences between generic and brand-name medications, even small incremental increases in the rate of generics dispensing are estimated to have important economic implications for both patients and payers.

The ACP therefore recommends that clinicians should prescribe generics, if possible, rather than more expensive brand-name medications.

Related articles
Patients' and physicians' perceptions of HIV generics

Physician perceptions of generics substitution

Reference
1. GaBI Online - Generics and Biosimilars Initiative. FDA wants generics to be physically same as originators [www.gabionline.net]. Mol, Belgium: Pro Pharma Communications International; [cited 2016 Jan 15]. Available from: www.gabionline.net/Guidelines/FDA-wants-generics-to-be-physically-same-as-originators

Permission granted to reproduce for personal and non-commercial use only. All other reproduction, copy or reprinting of all or part of any 'Content' found on this website is strictly prohibited without the prior consent of the publisher. Contact the publisher to obtain permission before redistributing.

Copyright – Unless otherwise stated all contents of this website are © 2016 Pro Pharma Communications International. All Rights Reserved.