Generic substitution rates in South Africa Posted 13/05/2011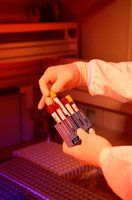 Research carried out by the School of Pharmacy at the North-West University, South Africa, has shown that generic substitution rates for antidepressants increased between 2004 and 2006. Meanwhile antidepressant use decreased over the same period while the average cost decreased in 2005, but increased again in 2006.
The study showed that generic substitution rates in South Africa increased by almost 5% during 2004–2006, going from 58.7% in 2004 to 63.3% in 2006. Reasons given by van der Westhuizen et al. were legislation (more stringent reference pricing and mandatory generic substitution), greater acceptance of generic medicines by prescribers and pharmacists and the introduction of formularies.

The decrease in the total number of antidepressants used from the beginning to the end of the study period was thought to be due to a decrease in medical scheme members and/or the decrease in the number of medical schemes administrated by a South African pharmaceutical benefit management company.

The decrease in the average cost of antidepressants in 2005 and subsequent increase in 2006 was attributed to the reference pricing system (RPS), which was implemented on 1 September 2004.

The RPS allowed for a dispensing fee of 26% of the medicine price with a cap of South African Rand 26.00, whilst increases in medicine prices were capped at 5.2% (for a period of approximately three years) leading to the initial decreases. The original dispensing fee for pharmacists was found to be inappropriate in September 2005. However, more than a year elapsed without any control over dispensing fees (causing increases in prices) before a new fee was finally proposed in December 2006.

Related articles

The status of generic substitution in South Africa

Savings due to generic substitution in South Africa

Reference

van der Westhuizen E, Burger JR, Lubbe MS, Serfontein JHP. Further potential savings attributable to maximum generic substitution of antidepressants in South Africa: A retrospective analysis of medical claims. Journal of Interdisciplinary Health Sciences. 2010;15(1):1-5.