Sandoz and EirGenix make deal for trastuzumab biosimilar Posted 07/06/2019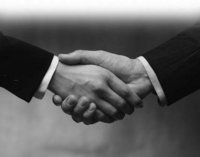 Sandoz, the generics division of Novartis, announced on 30 April 2019 that it had signed an agreement with Taiwan's EirGenix to market a proposed trastuzumab biosimilar.
Trastuzumab is a monoclonal antibody that interferes with the human epidermal growth factor receptor 2 (HER2)/neu receptor. In some cancers, notably certain types of breast cancer, HER2 is overexpressed, and causes cancer cells to reproduce uncontrollably. Trastuzumab is therefore used to treat certain breast cancers.

The license agreement grants Sandoz the exclusive rights to globally commercialize EirGenix's proposed trastuzumab biosimilar (EG12014), which is currently in phase III development.

Under the terms of the agreement, EirGenix will maintain responsibility for development and manufacturing of the trastuzumab biosimilar, while Sandoz will maintain rights to commercialize the drug upon approval in all markets excluding China and Taiwan. EirGenix will receive an upfront payment, milestone payments, and is entitled to receive profit share payments for sales in the agreed territories.

Sandoz says that this agreement allows the company 'to keep in-house resources focused on bringing forward a robust internal pipeline', as well as further expanding Sandoz' existing portfolio of four oncology biosimilars.

Stefan Hendriks, Global Head of Biopharmaceuticals at Sandoz, said that 'Every year, approximately 300,000 people worldwide are diagnosed with HER2-positive breast cancer, which tends to spread more quickly than HER2-negative tumours, making swift treatment important. While targeted therapy is available, high out-of-pocket costs lead to limited treatment in the US and reimbursement issues have resulted in varying uptake in Europe'.

In May 2017, EirGenix announced that EG12014 had demonstrated bioequivalence in a phase I clinical trial. The study was a double-blind, randomized, parallel group, 3-arm study in 84 healthy male volunteers. The study compared the pharmacokinetics of EG12014 and EU- and US-licensed reference Herceptin [1]. The global phase III trial of EG12014, which will include 800 breast cancer patients, will be carried out in the US, Taiwan, Russia, Belarus, Ukraine, South Africa, Georgia, South Korea, India and Chile.

The originator product, Roche's Herceptin (trastuzumab), had 2017 worldwide sales of CHF 7.0 billion (US$7.5 billion) [1]. It also tops the list in drug spending by Taiwan's National Health Insurance, with an annual expenditure of nearly NT$3 billion. The patents on Herceptin expires in the US in June 2019 and expired in Europe in July 2014 [2].

Related articles
Belgian companies make biosimilars agreement

AbbVie and Coherus sign licensing deal for Humira biosimilar

References
1. GaBI Online - Generics and Biosimilars Initiative. Biosimilars of trastuzumab [www.gabionline.net]. Mol, Belgium: Pro Pharma Communications International; [cited 2019 Jun 7]. Available from: www.gabionline.net/Biosimilars/General/Biosimilars-of-trastuzumab
2. Derbyshire M. Patent expiry dates for biologicals: 2017 update. Generics and Biosimilars Initiative Journal (GaBI Journal). 2018;7(1):29-34. doi:10.5639/gabij.2018.0701.007

Permission granted to reproduce for personal and non-commercial use only. All other reproduction, copy or reprinting of all or part of any 'Content' found on this website is strictly prohibited without the prior consent of the publisher. Contact the publisher to obtain permission before redistributing.

Copyright – Unless otherwise stated all contents of this website are © 2019 Pro Pharma Communications International. All Rights Reserved.