How easily will Big Pharma slip into generics 'avatar'? Posted 20/01/2010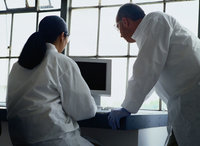 After years of warding off generics, large pharmaceutical companies are embracing generic drug manufacturers and vying for a share of the off-patent drugs business. Indian generic companies, once considered business pariahs, are the focus of plenty of action, Anju Ghangurde reports in Scrip News of 9 December 2009.
As he points out, annual pharmaceutical sales in emerging markets are expected to exceed US$400 billion by 2020, equivalent to current sales in the US, plus five major European markets, according to IMS Health. In addition, a report by Ernst & Young and the Organization of Pharmaceutical Producers of India (OPPI), a trade association representing the multinational pharmaceutical industry in India, said that India's proximity to other emerging markets could augur well for the growth of the Indian industry.

In June 2009, GlaxoSmithKline (GSK) and Dr Reddy's Laboratories entered into an alliance to develop and market a range of products across several emerging markets, excluding India. Under the terms of the agreement, GSK is expected to gain exclusive access to Dr Reddy's' portfolio and future pipeline of more than 100 branded pharmaceuticals in the cardiovascular, diabetes, oncology, gastroenterology and pain management segments. There has been some speculation over a possible expansion of the scope of the alliance, perhaps making it more acquisitive in structure for GSK. The UK-based multinational is said to be in talks to acquire about 5% of Dr Reddy's, in addition to a first-right-of-refusal should the Indian firm's founders want to divest or pare their holding. Both companies have declined to comment on the issue. Separately, GSK acquired Bristol-Myers Squibb's branded generics business in Jordan, Lebanon, Libya, Syria and Yemen in July 2009.

Mr Ghangurde wonders how easily Big Pharma will slip into its new 'avatar', adjusting to what is perceived as a low-margin business.

Dr Ajit Dangi, President and CEO of Danssen Consulting and a former Director General of the OPPI, believes that the trick lies in lowering the cost of manufacturing without compromising on quality. "Many Indian and Chinese companies have done this successfully. This is where partnerships [such as that between Pfizer and Aurobindo] come into the picture", Dr Dangi said.

India's recognised position as a cost-effective destination for activities ranging all the way from manufacturing to R&D offers promise in this respect. The Ernst & Young/OPPI study gave India the highest rating in terms of cost-efficiency attractiveness among six prominent manufacturing locations, including China, Eastern Europe and Singapore, mainly driven by its low manufacturing costs.

The study notes that the manufacturing costs of US FDA-approved plants in India are about 65% lower than those in the US and 50% below European levels. The cost of setting up such a facility in India is 30% cheaper than that in the US. With an estimated 119 US FDA-approved and 84 UK Medicines and Healthcare products Regulatory Agency (MHRA)-approved plants in India, multinationals seeking partners in India are spoilt for choice. (see also Big Pharma finally warms to generic pariahs, Big Pharma's strategic detour into generics, Big Pharma's generics entry and generic drug prices and Should Indian generic firms partner with Big Pharma?)

Reference:

Anju Ghangurde. 2010 Scrip 100: Big pharma finally warms to generic pariahs. Scrip News/2010 Scrip 100. 2009 December 9.