Lot selection and handling for biosimilarity Posted 31/08/2018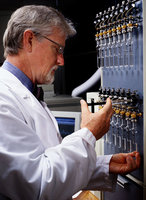 In his presentation on Expectations and Approaches for Demonstrating Analytical Similarity, Dr Patrick Lynch, Product Quality Reviewer at the US Food and Drug Administration (FDA) discussed lot selection and handling for biosimilarity at the DIA Biosimilars Conference 2017 [1].
According to Dr Lynch, the FDA's expectations for lot selection when it comes to biosimilarity include:
Select reference product lots sourced to a reasonable time period to capture variability
It is expected that basis for selecting reference product lots and specific data points for inclusion in analytical similarity assessments will be provided and pre‐specified in an analytical similarity protocol
Test reference product lots upon purchase, or stored under label conditions while still within expiry period if necessary, e.g. side‐by‐side analysis
Select test product lots that are independent to capture lot‐to-lot variability
In addition, FDA's expectations for lot independence include:
What is the predominant source of attribute variability?
For assessment of attributes intrinsic to the molecule and not affected by the drug product process, one independent drug product or drug substance should contribute only one value

Different drug product lots linked to the same drug substance batch(es) are not considered independent of one another

Independent lots refer to drug product lots produced from a single drug substance batch

Drug product lots produced from pooled drug substance batches may mask the lot‐to‐lot variation of the constituent drug substance batches

For attributes extrinsic to the molecule, or whose variability directly results from the drug product manufacturing process, e.g. protein content, it may be acceptable to use independently manufactured drug product lots regardless of the drug substance lot from which they were derived
Consider need for multiple lots of other constituent materials as necessary to ensure all contributing sources of lot‐to‐lot variability are captured, e.g. more than one lot of PEG
The only problem with these requirements is that it is not always easy to gain access to samples of originator biologicals (reference products). Understanding the challenges and conducting thorough upfront planning are crucial in ensuring success [2].

Disclaimer
Dr Patrick Lynch, Product Quality Reviewer at the US Food and Drug Administration (FDA), stated that his presentation reflects the views of the author and should not be construed to represent FDA's views or policies.

Related articles
Addressing uncertainty in biosimilarity

Ranking and evaluation of quality attributes for biosimilarity

Analytical consideration in demonstrating similarity for biosimilars

Analytical similarity for biosimilars

References
1. Lynch P. Expectations and approaches for demonstrating analytical similarity. DIA Biosimilars Conference; 24-25 October 2017; Bethesda, Maryland, USA.
2. GaBI Online - Generics and Biosimilars Initiative. Sourcing innovator products in the age of biosimilar research [www.gabionline.net]. Mol, Belgium: Pro Pharma Communications International; [cited 2018 Aug 31]. Available from: www.gabionline.net/Sponsored-Articles/Sourcing-innovator-products-in-the-age-of-biosimilar-research

Permission granted to reproduce for personal and non-commercial use only. All other reproduction, copy or reprinting of all or part of any 'Content' found on this website is strictly prohibited without the prior consent of the publisher. Contact the publisher to obtain permission before redistributing.

Copyright – Unless otherwise stated all contents of this website are © 2018 Pro Pharma Communications International. All Rights Reserved.