Samsung reveals positive trial results for bevacizumab biosimilar, but admits to failure with rituximab
Posted 15/11/2019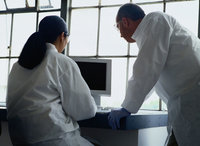 A phase III trial of Samsung Bioepis' bevacizumab biosimilar has shown equivalence to reference drug Avastin (bevacizumab). However, the company has admitted to failures in its attempt to develop a rituximab biosimilar at a recent trial in the Seoul Central District Court.
Bevacizumab is a monoclonal antibody used in the treatment of various cancers (including colon, lung, brain and kidney). It can also be used to treat age-related macular degeneration, and the originator biological, Avastin, is marketed by Genentech.
South Korean pharmaceutical firm Samsung Bioepis is developing a biosimilar of bevacizumab, currently named SB8, and at the 2019 European Society for Medical Oncology (ESMO) Congress presented results from a phase III clinical trial of the candidate.
The study assessed response in patients with metastatic or recurrent non-squamous non-small cell lung cancer. The drug showed equivalent efficacy (measured in terms of overall response rate by 24 weeks) to the reference product.
The product also showed comparable safety, pharmacokinetics and immunogenicity. Median progression-free survival (8.5 months vs 7.9 months) and overall survival (14.9 months vs. 15.8 months) was comparable between SB8 and reference bevacizumab. Rates of adverse events and anti-drug antibodies were also comparable.
Chul Kim, Senior Vice President of Samsung Bioepis, said 'Data from this study showed that there were no clinically meaningful differences between SB8 and reference bevacizumab', and emphasised the company's commitment to developing oncology biosimilars.
Samsung Bioepis has sent an application to the European Medicines Agency (EMA) [1] to market the drug in the European Union, where the company's sales exceeded US$180 million in the third quarter of 2019. Sales for arthritis treatment Benepali (etanercept) reached US$115 million, while popular inflammatory bowel disease treatments Imraldi (adalimumab) and Flixabi (infliximab) had sales of US$49.3 million and US$18.4 million, respectively.
However, Samsung has also acknowledged their failure to develop a rituximab biosimilar. Rituximab is used to treat autoimmune disease such as arthritis, and cancers such as non-Hodgkin's lymphoma and chronic lymphocytic leukaemia, and has been marketed under the brand name Rituxan.
The admission was made at the Seoul Central District Court at the fourth trial of Samsung Electronics and Samsung BioLogics, who are charged with destroying evidence of alleged accounting fraud.
They explained this discrepancy in the accounts by the fact that the rituximab (Rituxan) biosimilar was already being developed by Samsung's new unit but it could not be incorporated into the assets of Samsung Bioepis, since it was Biogen that developed Rituxan. The company added that the 'Rituxan business failed because the product development was too late'.
Samsung's Advanced Institute of Technology began to develop the Rituxan biosimilar in 2008, even reaching clinical trials, but the project suddenly ended in 2012 when Samsung Bioepis was formed. Work on the biosimilar resumed in 2016, through Samsung's new venture Archigen Biotech.
However, the study progressed slowly and is not expected to continue. Even if Archigen commercializes the product, the biosimilar will now have limited market value due to rival products already being released by firms including Celltrion, Pfizer and Sandoz.
Related articles
Samsung Bioepis to supply Brenzys to Brazil under production development partnership
Samsung Bioepis starts phase III trial for eculizumab copy biological
Samsung Bioepis makes deals for copy biologicals in China
Reference
1. GaBI Online - Generics and Biosimilars Initiative. EMA accepts application for bevacizumab biosimilar from Samsung Bioepis [www.gabionline.net]. Mol, Belgium: Pro Pharma Communications International; [cited 2019 Nov 15]. Available from: www.gabionline.net/Biosimilars/News/EMA-accepts-application-for-bevacizumab-biosimilar-from-Samsung-Bioepis
Permission granted to reproduce for personal and non-commercial use only. All other reproduction, copy or reprinting of all or part of any 'Content' found on this website is strictly prohibited without the prior consent of the publisher. Contact the publisher to obtain permission before redistributing.
Copyright – Unless otherwise stated all contents of this website are © 2019 Pro Pharma Communications International. All Rights Reserved.
Source: Samsung Bioepis, Korea Biomed