FDA urged to exclude plasma protein therapies from biosimilar pathway
Posted 03/08/2012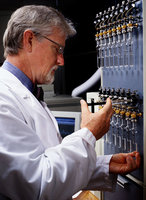 FDA is being lobbied by patient and industry groups to exclude plasma protein therapies from its pathway for the approval of biosimilars. FDA has a mandate to create a new abbreviated process for the approval of biosimilars under the Biologics Price Competition and Innovation Act of 2009, which was part of the new healthcare reform law passed in March 2010 [1]. This potentially brings cheaper products to market sooner, and so increases the availability of affordable health care. However, it also means that manufacturers applying for approval for new biosimilars may be able to skip clinical testing if they can demonstrate sufficient similarity with reference products.
Within the new law, which was ruled constitutional by the Supreme Court on 28 June 2012, FDA has the option to exclude a specific product or an entire therapeutic class from the biosimilars regulatory approval process based on current science and experience. But the law prohibits FDA from excluding recombinant proteins including blood clotting factors used to treat haemophilia and other bleeding disorders. This is in marked contrast to the European Medicines Agency (EMA) 2005 guideline which specifies that a new biosimilar immunoglobulin or blood clotting factor (plasma-derived or recombinant) must undergo the same safety and efficacy testing and approval process as other new products [2].
In order to determine the criteria and rules for its biosimilar approval process, FDA published draft guidances on 10 February 2012 and has held a series of public hearings with various stakeholders, the latest of which took place on 11 May 2012 [3]. At the meeting, both pharmaceutical companies and patient groups called for additional clinical studies and stricter standards for identity of biosimilars. FDA, however, was reported to be sticking to its position that, for ethical reasons, human clinical trials should not be repeated.
One of the most recent voices is that of the Medical and Scientific Advisory Council (MASAC) with regard to blood clotting factors. MASAC argues that differences in the manufacture of blood clotting factors means that no two products are the same. Therefore, circumventing the step of clinical trials for safety and efficacy could put patients at risk from adverse events.
'The most significant adverse event facing people with haemophilia today is the risk of developing an inhibitory antibody. The potential for each of the new biosimilars to induce formation of inhibitory antibodies is unknown. However, since each biological molecule is modified in a different way, each bears the potential to produce inhibitors,' they say in a statement approved by the National Haemophilia Foundation.
On 22 June 2012, MASAC recommended that each new product be clinically tested to ensure safety and efficacy. 'Until a framework guaranteeing their safety and quality is established, we urge that follow-on plasma protein or recombinant therapies, including therapies for patients with haemophilia, be excluded from any abbreviated regulatory pathway. If these therapies are included in the abbreviated pathway, rigorous clinical trials must be required.'
Other groups are also urging the agency to exclude plasma protein therapies (both plasma-derived therapies and recombinant products) from its biosimilar approval pathway. Besides haemophilia, plasma protein therapies are used for the treatment of chronic and life-threatening diseases and disorders such as alpha1-proteinase inhibitor deficiency in genetic chronic obstructive pulmonary disease and primary immune deficiency diseases. They also include albumin, which is used in critical care settings to treat severe trauma and burns and during surgery.
The Immune Deficiency Foundation (IDF), for example, is requesting that FDA exempts immunoglobulin (Ig) therapies from the approval pathway on the rationale that these plasma-derived therapies can differ in their processing and end composition. They also argue that current science cannot confirm that any two of these products will have the same clinical outcome, or that there will be no additional risks if patients switch from one product to another.
'The FDA should restrict Ig therapies from the biosimilar pathways until the science advances significantly,' said Ms Marcia Boyle, President and Founder of the IDF. 'Patients with primary immunodeficiency diseases depend on frequent antibody replacements with Ig therapy in order to fight infections.'
Back in November 2010, The Plasma Protein Therapeutics Association (PPTA), which represents source plasma collectors and manufacturers of plasma protein therapies, argued that 'only through real experience in patients is it possible to know with confidence whether biochemical differences between different manufacturers' plasma protein therapies have material impacts on clinical safety and effectiveness.'
Now PPTA is calling for FDA to create specific guidance documents for particular product classes, such as plasma protein therapies, and separately, specific guidance on recombinant products. Currently, however, FDA is continuing to focus on finalising its general overarching guidance for biosimilars. An FDA spokeswoman is quoted as saying, 'we agreed with this approach and began with the three draft guidance documents issued earlier this year. FDA will carefully review and consider all comments, including those from the public hearing docket and those from the draft guidance dockets, as we move forward in finalising the guidances and determine plans for development of future policies regarding biosimilars.'
Editor's comment
It is clear that the potential biosimilar users are seeking solid scientific information of biosimilars. Feel free to share the information on scientific advances in research and development of biosimilars via GaBI Journal, submit a manuscript here.
Related article
US supreme court ruling means biosimilars pathway safe
References
1. GaBI Online - Generics and Biosimilars Initiative. US healthcare reform [www.gabionline.net]. Mol, Belgium: Pro Pharma Communications International; [cited 2012 Aug 3]. Available from: www.gabionline.net/Policies-Legislation/US-healthcare-reform
2. GaBI Online - Generics and Biosimilars Initiative. EU guidelines for biosimilars [www.gabionline.net]. Mol, Belgium: Pro Pharma Communications International; [cited 2012 Aug 3]. Available from: www.gabionline.net/Guidelines/EU-guidelines-for-biosimilars
3. GaBI Online - Generics and Biosimilars Initiative. FDA's public hearing on biosimilars draft guidances [www.gabionline.net]. Mol, Belgium: Pro Pharma Communications International; [cited 2012 Jul 31]. Available from: www.gabionline.net/Biosimilars/General/FDA-s-public-hearing-on-biosimilars-draft-guidances
Source: IDF, Inside Washington, MASAC, PPTA