Successful phase III trial of biosimilar r-FSH
Posted 18/06/2012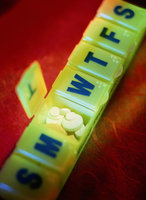 Finox Biotech announced on 6 June 2012 that the company's pivotal phase III study with Afolia, a biosimilar recombinant follicle stimulating hormone (r-FSH), in patients undergoing assisted reproduction technology (ART), had met its primary endpoint.
The study (FIN3001) was an assessor-blinded, multicentre, phase III study, which included a total of 410 patients randomised using a 2:1 scheme to receive either the biosimilar (Afolia) or the reference product (Gonal-F).
Afolia demonstrated clinical and statistical equivalence to the reference product, Gonal-F (follitropin alfa), which is a formulation of the naturally occurring hormone FSH, and which is used as a fertility medication by women who have not been able to become pregnant as a result of problems with ovulation.
Equivalence was defined by retrieving similar numbers of oocytes (female gametocytes or germ cells involved in reproduction) during a standard treatment duration of 10 to 16 days with a fixed dose of r-FSH. The equivalence margins required that the difference in the number of oocytes retrieved did not exceed ± 2.9 oocytes.
The results proved that Afolia is 'biosimilar' to Gonal-F: the number of oocytes retrieved were 11.3 in the Afolia group compared to 10.8 in the Gonal-F group. The treatment difference was 0.52 with a 95% confidence interval of -0.81 to 1.79. The pre-defined equivalence margin was met.
Afolia will be Swiss-based Finox Biotech's first biosimilar. The company was set up in 2007 to develop biosimilars that are positively differentiated from their reference products through dedicated devices, and expects to submit their dossier to EMA for European approval by the fourth quarter of 2012. Mr Anjan Selz, Chief Executive Officer of Finox Biotech commented that he was 'extremely pleased with the outstanding FIN3001 results.' Adding that 'we will be working with the Health Authorities to make this valuable biosimilar medicine available to ART patients as soon as possible.'
Secondary endpoints included the number of days treated with FSH, the total dose of FSH received, the quality of oocytes retrieved, the quality of embryos transferred and other important clinical parameters for ART. The results from the secondary endpoints were also similar in both treatment groups.
Safety and tolerability
Both treatment groups also showed a similar safety profile. Mean exposure to study treatment was identical in both treatment groups. In this patient population Afolia was well tolerated. The number of adverse events reported and patients discontinuing treatment due to adverse events was very similar between the two groups.
Benefits of Afolia
The Afolia injector pen is a single-use, one-a-day disposable device, which avoids the complications of a multi-use pen. The self-injection process is reduced to only three steps, which enhances ease-of-use and patient acceptance.
US approval
Finox Biotech has agreed with FDA, via a Special Protocol Assessment, to conduct a pivotal phase III study (FIN3002) for registration of Afolia in the US, and according to the company press release a US Investigational New Drug application has been filed.
Related articles
Sandoz starts phase III trials for biosimilar filgrastim and pegfilgrastim
Hospira starts phase III programme for biosimilar erythropoietin