Rise in US spending on generics: a buoyant market as patents expire on brand-name drugs
Posted 22/06/2012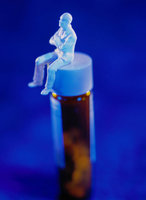 A new IMS report notes a rise in spending on generic medicines in the US to 27%, or US$75 billion, and looks at the main changes driving the trend.
A significant rise in spending on generic medicines is one of the key features of a new IMS report. The report contains a retrospective analysis of key issues and trends that affect the consumption of and spending on medicines in the US in 2011. Within the report, and illustrated in an online audio visual presentation, are the most recent trends with regard to spending on generics and small-molecule medicines, and some of the factors responsible.
The total spending on prescription drugs in the US was US$320 billion in 2011, which is a rise of 3.7% on 2010 spending (an increase of US$125 billion since 2002). Spending on generics increased by US$5.6 billion. In 2011, generics account for 80% of prescriptions by volume (US$5.6 billion increase in 2011 spending), compared to 78% in 2010 and only 67% in 2007, see Figure 1. Encouraging the 2011 trend was the expiry of patents for several major branded products including Lipitor (atorvastatin) and Zyprexa (olanzapine), which each attracted annual sales above US$1 billion during the 12 months prior to their patent expiry. In total, for the 5-year period ending in 2011, the 'patent dividend', or savings due to patent expiry, was estimated to be US$65.2 billion.
Figure 1: Generics share of prescriptions in the US by volume

Source: IMS Health, National Prescription Audit, Dec 2011
However, not all patent expiries that occurred in late 2011 would have had their full impact. Most of the observed rise in generics use (mainly in small molecules) was driven by patent expiration during 2010 and in early 2011, including those of Lovenox (enoxaparin), Aricept (donepezil) and Effexor XR (venlafaxine). As a result, generics now account for 27% of total spending on dispensed pharmaceuticals (US$75 billion), see Figure 2.
Figure 2: 2011 spending on pharmaceuticals in the US

Source: IMS Health, National Sales Perspectives, Dec 2011
The report also noted that nearly one-third of spending was dominated by treatment in five disease areas: cancer, asthma and chronic obstructive pulmonary disease, dyslipidemia, diabetes, and mental health medicines for psychoses or bipolar disorders.
For more information, please contact IMS Institute.
Related articles
Global generics markets predicted to grow to US$221 billion by 2016