FDA rejects pseudoephedrine application due to deficiencies
Posted 29/04/2011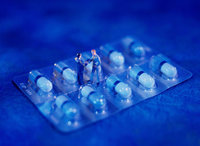 On 11 March 2011 SCOLR Pharmaceuticals announced it had received a letter from the FDA identifying deficiencies regarding its Abbreviated New Drug Application (ANDA) for its generic extended-release pseudoephedrine.
The letter identified a number of concerns that the FDA had with the conduct of the bioequivalence study submitted by SCOLR to support the application. The problems relate to the design and conduct of the study and not to the product formulation. Due to these deficiencies, the FDA will not approve the ANDA application at this time.
Mr Stephen J Turner, SCOLR's President and CEO, commenting on the letter from the FDA said, 'Although we are extremely disappointed with this situation, we are currently evaluating the deficiencies identified by the FDA to determine the most appropriate course of action. We remain confident in our pseudoephedrine product and intend to rectify the FDA's concerns'.
Source: SCOLR Pharmaceuticals