iBio and GE Healthcare form new global alliance
Posted 10/08/2012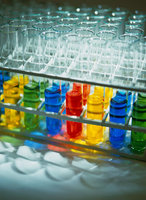 Biotechnology company iBio, self-professed leader in the plant-made pharmaceutical field, and GE Healthcare, the health business of General Electric, announced on 26 July 2012 a new global alliance to commercialise plant-based technologies for the manufacture of biologicals and vaccines.
The alliance builds on the existing development and marketing agreement between the two companies announced in 2010 and combines iBio's innovative plant-based vaccine manufacturing platform, iBioLaunch, with GE Healthcare's world-class capabilities in start-to-finish technologies for biologicals manufacturing. iBio's research and development collaborator, Fraunhofer USA Center for Molecular Biotechnology (CMB) will continue to play a key role in advancing the iBioLaunch platform. Financial terms were not disclosed.
The iBioLaunch platform is a proprietary gene expression technology that induces plants to rapidly produce high levels of proteins such as vaccines, in a process which can be easily and reliably scaled-up in low cost, controlled-growth facilities.
Worldwide demand for biologicals and vaccines is increasing dramatically, driven by ageing populations and the global effort to reduce the incidence of vaccine preventable diseases. In work funded by the Bill & Melinda Gates Foundation, iBio's pioneering plant-based technology has been used to produce an avian influenza vaccine candidate that recently completed a successful phase I clinical trial. The iBioLaunch platform was also used to produce a candidate vaccine against H1N1 influenza, for which a human phase I trial was successfully completed in March 2012. The alliance between the two companies aligns with GE's healthymagination initiative, which focuses on reducing cost, increasing access and improving quality in healthcare.
Although it was not specifically stated in the press releases from the companies, it is likely that the collaboration will also focus on biosimilars. iBio has already successfully used its iBioLaunch technology to produce two monoclonal antibody biosimilars, rituximab and palivizumab, in non-transgenic green plants [1, 2]. Comments from leaders at iBio, GE Healthcare and CMB also hint at biosimilar production, with the use of phrases such as 'affordable', 'cost-effective' and use of the plant-based manufacturing platform 'to assist in the global effort to increase access to biotherapeutics' being used.
Related articles
Biosimilars: key players and global market trends
GE Healthcare expands biologicals business
References
1. GaBI Online - Generics and Biosimilars Initiative. Also noted on biosimilars: 13 April 2012: Palivizumab biosimilar successfully produced in plants [www.gabionline.net]. Mol, Belgium: Pro Pharma Communications International; [cited 2012 Aug 10]. Available from: www.gabionline.net/Biosimilars/General/Also-noted-on-biosimilars-13-April-2012
2. GaBI Online - Generics and Biosimilars Initiative. Rituximab biosimilar successfully produced in plants [www.gabionline.net]. Mol, Belgium: Pro Pharma Communications International; [cited 2012 Aug 10]. Available from: www.gabionline.net/Biosimilars/News/Rituximab-biosimilar-successfully-produced-in-plants
Source: GE Healthcare, iBio