Australian approval for biosimilar insulin
Posted 22/05/2015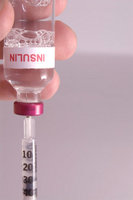 Australia's Pharmaceutical Benefits Advisory Committee (PBAC) has given a positive recommendation for the listing of Eli Lilly's biosimilar insulin glargine, Basaglar in the country's Pharmaceutical Benefits Scheme (PBS). Basaglar is the first biosimilar insulin to be approved in Australia, providing an alternative, affordable treatment option for patients suffering from diabetes.
Basaglar is a biosimilar of the PBS listed insulin glargine, Lantus, made by French drugmaker Sanofi. PBAC recommended the listing of insulin glargine Basaglar for the treatment of type 1 and 2 diabetes mellitus on a cost-minimisation basis with Lantus. The biosimilar insulin glargine product is a basal (long-acting) insulin with the same amino acid sequence as Lantus. Basaglar is intended to provide long-lasting blood sugar control between meals and at night and will be available in a pre-filled pen and cartridges for a reusable pen.
PBAC also said it will consider marking the biosimilar as equivalent, i.e. 'a' flagging. Medicines deemed substitutable at a pharmacy level by PBAC include a notation in the official Pharmaceutical Benefits Schedule known as an 'a' flag.
This marks a change in position of PBAC, which had previously not considered 'a' flagging biosimilars, stating that 'The current practice of 'a' flagging in the Schedule of Pharmaceutical Benefits, denoting that brand substitution may be undertaken by pharmacists at the point of dispensing, will not be applied to SBMPs [similar biological medicinal products, aka biosimilars] at this time unless a Therapeutic Goods Administration (TGA) issued statement supportive of 'a' flagging is available'. And in fact it has even rejected 'a' flagging in the case of the filgrastim biosimilar, Nivestim [1].
Australia's Generic Medicines Industry Association (GMiA) welcomed the announcement to list biosimilar insulin. GMiA CEO, Ms Belinda Wood said that the 'GMiA welcomes the PBAC decision to consider the marking as equivalent, also known as "a" flagging, of biosimilars and their reference products on a case-by-case basis.'
Applying an 'a' flag would let pharmacists in Australia substitute a biosimilar for the reference biological in exactly the same way as generics are already substituted.
Eli Lilly also gained European approval in September 2014 for its biosimilar insulin glargine, which is called Abasaglar in Europe [2].
Related articles
Australia reviewing plans for naming biosimilars
Biosimilars approved in Australia
References
1. Shaw B. Biosimilars naming and prescribing policy in Australia. Generics and Biosimilars Initiative Journal (GaBI Journal). 2013;2(4):168-9. doi:10.5639/gabij.2013.0204.048
2. GaBI Online - Generics and Biosimilars Initiative. Biosimilars approved in Europe [www.gabionline.net]. Mol, Belgium: Pro Pharma Communications International; [cited 2015 May 22]. Available from: www.gabionline.net/Biosimilars/General/Biosimilars-approved-in-Europe
Permission granted to reproduce for personal and non-commercial use only. All other reproduction, copy or reprinting of all or part of any 'Content' found on this website is strictly prohibited without the prior consent of the publisher. Contact the publisher to obtain permission before redistributing.
Copyright – Unless otherwise stated all contents of this website are © 2015 Pro Pharma Communications International. All Rights Reserved.