Biosimilars of abatacept
Posted 02/12/2016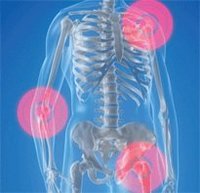 Last update: 28 April 2017
Abatacept is a modified antibody biological drug used to treat autoimmune diseases like rheumatoid arthritis, by interfering with the function of particular cells (T-cells) in the immune system. This action modifies the inflammation and immune activity which cause the symptoms of rheumatoid arthritis.
Abatacept is a fusion protein composed of the Fc region of the immunoglobulin IgG1 fused to the extracellular domain of CTLA-4. In order for a T-cell to be activated and produce an immune response, an antigen-presenting cell must present two signals to the T-cell. One of those signals is the major histocompatibility complex (MHC), combined with the antigen, and the other signal is the CD80 or CD86 molecule (also known as B7-1 and B7-2). Abatacept binds to the CD80 and CD86 molecule, and prevents the second signal. Without the second signal, the T-cell cannot be activated.
The originator product, Bristol-Myers Squibb's Orencia (abatacept), was approved by the US Food and Drug Administration (FDA) in December 2005 and by the European Medicines Agency (EMA) in May 2007 [1]. Orencia had sales of US$1.9 billion in 2015.
The patents on Orencia will expire in the US in October 2019 and in Europe in December 2017 [1]. Some of the abatacept biosimilars and non-originator biologicals* approved or in development are presented in Table 1.
Table 1: Biosimilars and non-originator biologicals* of abatacept approved or in development
Company name, Country

Product name

Stage of development

BioXpress Therapeutics, Switzerland

-

In pipeline

Momenta Pharmaceuticals/Mylan, USA

M834

Momenta and Mylan are collaborating on six biosimilars [2]. Phase I trial initiated in November 2016

*See editor's comment
No biosimilars makers are very far along the road to developing an abatacept biosimilar, despite the fact that the patents on the originator product expire in 2017, this highlights the costs involved and complexity in developing biosimilars.
Editor's comment
It should be noted that 'non-originator biologicals' approved in less regulated countries might not have been authorized following as strict a regulatory process as is required for approval of biosimilars in the European Union. The EMA (European Medicines Agency) regulatory requirements ensure the same high standards of quality, safety and efficacy for biosimilars as for originator biologicals, and also include a rigorous comparability exercise with the reference product.
Related article
Biosimilars of certolizumab pegol
References
1. Derbyshire M. Patent expiry dates for biologicals: 2016 update. Generics and Biosimilars Initiative Journal (GaBI Journal). 2017;6(1):27-30. doi:10.5639/gabij.2017.0601.006
2. GaBI Online - Generics and Biosimilars Initiative. Mylan and Momenta to jointly develop and commercialize six biosimilar products [www.gabionline.net]. Mol, Belgium: Pro Pharma Communications International; [cited 2016 Dec 2]. Available from: www.gabionline.net/Pharma-News/Mylan-and-Momenta-to-jointly-develop-and-commercialize-six-biosimilar-products
Permission granted to reproduce for personal and non-commercial use only. All other reproduction, copy or reprinting of all or part of any 'Content' found on this website is strictly prohibited without the prior consent of the publisher. Contact the publisher to obtain permission before redistributing.
Copyright – Unless otherwise stated all contents of this website are © 2016 Pro Pharma Communications International. All Rights Reserved.
Source: ClinicalTrials.gov, EMA, US FDA