US Court rejects Teva's lawsuit over generic Restasis
Posted 26/04/2019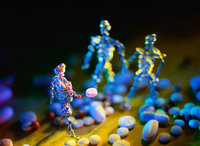 The US District Court for the District of Columbia has discarded lawsuits from generics giant Teva Pharmaceutical Industries (Teva) regarding its first-to-file exclusivity rights on a generic version of the blockbuster dry eye drug Restasis (cyclosporine).
Under the Hatch-Waxman Act enacted in 1984, the first generic drug applicant to file an abbreviated new drug application (ANDA) containing a Paragraph IV certification to a patent was eligible for 180 days of exclusivity. The definition was revised slightly in 2003 to include that the application must be 'substantially complete' and the term 'First Applicant' was applied. However, in July 2018, in a letter regarding Suboxone generics, the US Food and Drug Administration (FDA) ruled that ANDA applicants can qualify for 180 days of exclusivity whether or not they provide a Paragraph IV certification [1].
This led Teva to file lawsuits in the US District Court for Columbia. In its lawsuits, Teva alleges that the FDA's interpretation of the definition of 'First Applicant' is unlawful, and asserts that it was the first generic drug applicant that complied with the Hatch-Waxman Act's requirements for challenging at least one of the patents covering Restasis. Teva claims that the FDA is depriving it of its statutory right to 180 days of exclusivity for its generic version of Restasis, which it estimates is worth more than US$50 million in net revenues.
The US District Court for Columbia discarded these lawsuits based on Teva's lack of evidence to demonstrate that it would suffer an immediate and concrete injury. Under the ruling, Teva cannot challenge the FDA's interpretation of first-to-file rights until after the agency has acted on any of a number of pending applications for generic versions of Restasis. Mylan Pharmaceuticals, Deva Holding and Famy Care all have applications pending with FDA for generic versions of Restasis, and intervened in the case.
Judge Randolph D Moss of the US District Court for Columbia said that as a threshold matter, Teva does not have a protectable property right to 180-day exclusivity.
'[N]either history nor statutory text suggests that Congress intended to confer first applicants an immediate property interest. Generic drug applicants may not know for years after filing their applications whether they ultimately will obtain the 180 days of generic exclusivity'.
He also states that there is no support for 'Teva's sweeping view that an ANDA applicant obtains an immediate property interest in its first applicant status.'
Related articles
Texan judge invalidates Restasis patents
US tribal patent deal could prevent generics
Allergan objects to Restasis generics being accepted without human trials
Reference
1. GaBI Online - Generics and Biosimilars Initiative. Teva sues FDA for changing 'first applicant' definition for generics [www.gabionline.net]. Mol, Belgium: Pro Pharma Communications International; [cited 2019 Apr 26]. Available from: www.gabionline.net/Generics/General/Teva-sues-FDA-for-changing-first-applicant-definition-for-generics
Permission granted to reproduce for personal and non-commercial use only. All other reproduction, copy or reprinting of all or part of any 'Content' found on this website is strictly prohibited without the prior consent of the publisher. Contact the publisher to obtain permission before redistributing.
Copyright – Unless otherwise stated all contents of this website are © 2019 Pro Pharma Communications International. All Rights Reserved.