EC approval for subcutaneous infliximab biosimilar Remsima SC
Posted 29/11/2019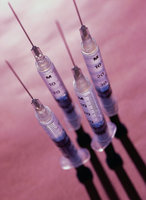 South Korean biotechnology company Celltrion Healthcare (Celltrion) announced on 26 November 2019 that it had received European Commission (EC) approval for the subcutaneous (SC) formulation of its infliximab biosimilar (CT-P13) in patients with rheumatoid arthritis (RA).
Infliximab is a chimeric monoclonal antibody against tumour necrosis factor-alpha (TNF-α). It is used to treat autoimmune diseases, such as ankylosing spondylitis, Crohn's disease, psoriasis, psoriatic arthritis, rheumatoid arthritis, and ulcerative colitis.
The approval of Remsima SC (CT-P13) by the EC follows the European Medicines Agency's (EMA) Committee for Medicinal Products for Human Use (CHMP) positive recommendation on 22 September 2018 [1].
Remsima SC has been approved in the European Union for the treatment of people with RA in combination with methotrexate (MTX), in adult patients with active RA when the response to disease-modifying anti-rheumatic drugs (DMARDs), including MTX, has been inadequate; and in adult patients with severe, active and progressive disease not previously treated with MTX or other DMARDs.
The approval was based on clinical evidence, which included results from a study that showed switching patients with RA from the intravenous (IV) formulation to the SC formulation of CT-P13 at Week 30 was comparable to maintaining CT-P13 SC up to Week 54 (up to Week 64 for safety profile) [2]. The study was presented at the American College of Rheumatology's Annual Meeting, which was held on 8‒13 November 2019 in Atlanta, USA.
Remsima SC's main target patients are those who are resistant to originator TNF-α inhibitors, such as Humira (adalimumab) and Enbrel (etanercept).
According to Professor Rene Westhovens, a rheumatologist at the University Hospital KU Leuven, Belgium, 'the approval of Remsima SC in Europe gives patients the opportunity to administer the treatment themselves as an injection, giving them more control over their own treatment'. He added that 'Remsima SC has been shown to have a stable potency, and patients with RA on Remsima SC develop fewer anti-drug antibodies – which can improve the effectiveness of a treatment – compared with those on CT-P13 IV'.
Celltrion has also submitted a further variation to the marketing authorization of Remsima SC to extend the indication to inflammatory bowel disease. The approval decision for the extended indication is expected in mid-2020.
Related articles
Safety of SC form of infliximab biosimilar CT-P13
Phase III trial for subcutaneous Remsima completed
Positive results for infliximab and trastuzumab biosimilars
References
1. GaBI Online - Generics and Biosimilars Initiative. Positive EMA-CHMP opinion for SC infliximab biosimilar [www.gabionline.net]. Mol, Belgium: Pro Pharma Communications International; [cited 2019 Nov 29]. Available from: www.gabionline.net/Biosimilars/News/Positive-EMA-CHMP-opinion-for-SC-infliximab-biosimilar
2. Westhovens R, Wiland P, Zawadzki M, et al. Efficacy and safety of a novel subcutaneous formulation of CT-P13 over the 1-year treatment period and after switching from intravenous CT-P13 in patients with active rheumatoid arthritis: results from part 2 of phase I/III randomized controlled trial [abstract]. Arthritis Rheumatol. 2019;71(suppl 10).
Permission granted to reproduce for personal and non-commercial use only. All other reproduction, copy or reprinting of all or part of any 'Content' found on this website is strictly prohibited without the prior consent of the publisher. Contact the publisher to obtain permission before redistributing.
Copyright – Unless otherwise stated all contents of this website are © 2019 Pro Pharma Communications International. All Rights Reserved.