Biosimilar monoclonal antibody approved in Korea
Posted 03/08/2012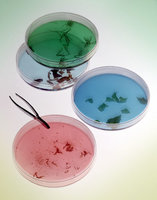 South Korean biotechnology company Celltrion announced on 23 July 2012 that the Korean Food and Drug Administration (KFDA) had approved its first monoclonal antibody, Remsima.
The drug is a biosimilar of Johnson & Johnson's rheumatoid arthritis blockbuster Remicade (infliximab).
KFDA approval for Remsima is based on clinical trials carried out by Celltrion, the results of which were presented at the Annual Congress of the European League Against Rheumatism (EULAR) held in Berlin, Germany, on 6–9 June 2012 [1]. The trials demonstrated the similar pharmacokinetic profile, clinical efficacy and overall safety of Remsima (CT-P13) compared to Remicade.
Remsima was approved by KFDA for several indications, including treatment of rheumatoid arthritis, ankylosing spondylitis, ulcerative colitis, Crohn's disease and psoriasis.
Celltrion is preparing to launch Remsima in approximately 100 countries including the EU and other developed markets. The company has already applied to EMA for approval of the biosimilar in the EU and intends to launch Remsima in Asia and South America by the end of 2012.
Celltrion, as a contract manufacturing organisation, has an agreement to develop and market eight biosimilars, including infliximab, with US-based generics major Hospira [2]. The company has at least six other biosimilars in various stages of development, covering indications such as breast cancer, Hodgkin's lymphoma, colorectal cancer, colon cancer and respiratory syncytial virus.
Related articles
Biosimilar infliximab equivalence proven in phase III trial
Phase I trial of biosimilar infliximab proves biosimilarity
References
1. GaBI Online - Generics and Biosimilars Initiative. Trials of biosimilar monoclonal antibody prove biosimilarity [www.gabionline.net]. Mol, Belgium: Pro Pharma Communications International; [cited 2012 Aug 3]. Available from: www.gabionline.net/Biosimilars/News/Trials-of-biosimilar-monoclonal-antibody-prove-biosimilarity
2. GaBI Online - Generics and Biosimilars Initiative. South Korea to emerge as global leader in biosimilar R & D [www.gabionline.net]. Mol, Belgium: Pro Pharma Communications International; [cited 2012 Aug 3]. Available from: www.gabionline.net/Biosimilars/News/South-Korea-to-emerge-as-global-leader-in-biosimilar-R-D