Bionomics of biosimilars – Indian opportunities Posted 02/03/2010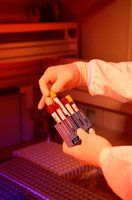 As reported by Ms Nayantara Som in BioSpectrumIndia of 13 January 2010, biosimilars are said to be the next big cash cow for India. However, players have many knots to untangle before they can have a firm grip over the economics of the market.
The upcoming oncology market is one of the prime targeted areas for many companies. The current size of the Indian oncology market is about US$18.60 million, which is expected to be over about US$50 million by the end of 2010. Mr Tapan Ray, Director General of the Organization of Pharmaceutical Producers of India (OPPI), says, "Oncology being one of the fastest growing therapy segments, sharp focus on this area is indeed a step in the right direction".

There are around 25 Indian players in the space with around 40–50 products already being sold in the Indian market and some being sold in the unregulated markets too. "Around 15 brands of EPO, eight to nine granulocyte colony-stimulating factor (G-CSF) products and three to four insulin products are being sold in the Indian market", informs Dr Dhananjay Patankar, COO, Intas Biopharmaceuticals. According to estimates, in India, EPO has clocked a sale of US$22 million, G-CSF of about US$11 million, interferon of US$22 million, streptokinase of about US$16 million, and insulin of about US$55 million. Dr Reddy's Labs created a niche in oncology with the launch of its affordable biosimilar product of rituximab, Reditux, in 2003. Biocon has four products developed in India (viz EPO, insulin, GCSF and streptokinase) with its human insulin product being sold in the market at a discount of almost up to 80–85%. Glenmark is planning to come out with its first biotech product by 2010 from its biological research establishment located in Switzerland. Similarly, Ranbaxy with its strategic collaboration with Zenotech Laboratories is planning to market G-CSF oncology products in various markets of the world like Brazil, Mexico, Commonwealth of Independent States (CIS) and Russia. Reliance Life Sciences launched three biosimilars (ReliPoietin Erythropoietin (EPO), ReliGrast Granulocyte Colony Stimulating Factor (G-CSF), and ReliFeron (Interferon Alpha 2b)) in the domestic market in 2008. "We are concurrently conducting clinical trials for two biosimilars (erythropoietin and G-CSF) in Europe", said Mr KV Subramaniam, President and CEO, Reliance Life Sciences. Intas Biopharmaceuticals has launched four biosimilar products (G-CSF, EPO, Interferon Alpha Beta and Peg-G-CSF) in international as well as domestic markets. "Our strategy for regulated markets would be a step-wise approach from APIs [active pharmaceutical ingredients] to biosimilars to contract research to collaborative research and biobetters to novel biologicals. We aim to replicate its biosimilar success of India and semi-regulated markets success in Europe and North America". Wockhardt has biosimilar products at various stages of development and is targeting the US and EU markets. Cipla has entered into a 50:50 joint venture (BioMab) with a Chinese company for biosimilars, which expects the first product to be out by 2010.

Mr Jay Desai, founder and CEO of Universal Consulting, warned there are five bridges to traverse before getting success in biosimilars: affordability, assets, approvability, acceptability and availability. Industry experts also fear mushrooming of other players who are on the run to make quick money but will come with products without any quality. (see also Bionomics of biosimilars - Indian options for investors, Bionomics of biosimilars – EU and US markets not easy for India and Bionomics of biosimilars – India's next big cash cow?)

Reference:

Nayantara Som. Bionomics of Biosimilars. BioSpectrumIndia. 2010 January 13.