Glatiramoid follow-on NBCDs
Posted 11/03/2016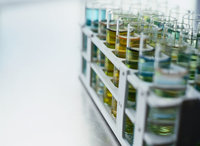 Follow-on versions of glatiramoid non-biological complex drugs (NBCDs) was a subject discussed at the International Symposium on the Scientific and Regulatory Advances in Complex Drugs, which took place in Budapest, Hungary on 27–28 October 2014 [1].
Glatiramoids are a family of synthetic copolymer mixtures comprising the four amino acids, L-glutamic acid, L-alanine, L-lysine and L-tyrosine of varying sequences and sizes obtained by a process of polymerization followed by partial hydrolysis.
Like other NBCDs, due to the complexity and heterogeneity of glatiramoids, the clinically active epitopes within the mixture cannot be identified and the consistency of polypeptide sequences within the mixture is dependent on a tightly controlled manufacturing process.
The first and most thoroughly studied glatiramoid, Copaxone (glatiramer acetate) was approved for treatment of relapsing–remitting multiple sclerosis, an autoimmune disorder. The mechanism of action and the active components responsible for its clinical effect are still uncertain in spite of extensive research and a multitude of publications in peer-reviewed journals. Therefore, the entirety of the Copaxone constituents is considered to be the active pharmaceutical ingredient (API).
The US Food and Drug Administration approved Sandoz/Momenta's Glatopa (glatiramer acetate) on the 16 April 2015, as the first substitutable follow-on version of Copaxone [2].
Conflict of interest
The authors of the conference report [1] did not provide any conflict of interest statement.
Editor's comment
Readers interested to learn more about follow-on NBCDs are invited to visit www.gabi-journal.net to view the following manuscript published in GaBI Journal:
Clinical development, immunogenicity, and interchangeability of follow-on complex drugs
If you are interested in contributing a research article in a similar area to the GaBI Journal, please send us your submission here.
Related articles
Iron carbohydrate follow-on NBCDs
Regulations for follow-on NBCDs
Status and regulatory issues surrounding follow-on NBCDs
References
1. Crommelin DJ, et al. The similarity question for biologicals and non-biological complex drugs. Eur J Pharm Sci. 2015;76:10-7.
2. GaBI Online - Generics and Biosimilars Initiative. FDA approves first follow-on version of glatiramer acetate [www.gabionline.net]. Mol, Belgium: Pro Pharma Communications International; [cited 2016 Mar 11]. Available from: www.gabionline.net/Non-Biological-Complex-Drugs/News/FDA-approves-first-follow-on-version-of-glatiramer-acetate
Permission granted to reproduce for personal and non-commercial use only. All other reproduction, copy or reprinting of all or part of any 'Content' found on this website is strictly prohibited without the prior consent of the publisher. Contact the publisher to obtain permission before redistributing.
Copyright – Unless otherwise stated all contents of this website are © 2016 Pro Pharma Communications International. All Rights Reserved.