Liposomal follow-on NBCDs
Posted 11/12/2015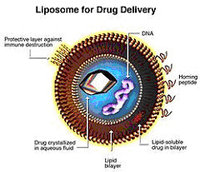 Follow-on versions of liposomal non-biological complex drugs (NBCDs) was a subject discussed at the International Symposium on the Scientific and Regulatory Advances in Complex Drugs, which took place in Budapest, Hungary on 27–28 October 2014 [1].
A liposome is a spherical vesicle having at least one lipid bilayer. The liposome can be used as a vehicle for administration of nutrients and pharmaceutical drugs.
Liposomes may be seen as the frontrunners of the nanomedicines family, e.g. polymeric micelles and colloidal gold dispersions. Therefore, much of the experience gained with these molecules may be applied to other nanomedicines.
In the EU, both originator and follow-on liposome products follow the centralized procedure. The European Medicines Agency (EMA) has issued a reflection paper for follow-on versions of doxorubicin liposomes in which it explains how to handle issues such as 'sameness' [2].
In the US, one follow-on liposomal product has been approved via a two-step process [Lipodox as a follow-on version of Doxil (doxorubicin)]. The dossier for the same follow-on product, however, was rejected by EMA in 2011.
Conflict of interest
The authors of the conference report [1] did not provide any conflict of interest statement.
Editor's comment
Readers interested to learn more about follow-on liposomal NBCDs are invited to visit www.gabi-journal.net to view the following manuscript published in GaBI Journal:
Access to liposomal generic formulations: beyond AmBisome and Doxil/Caelyx
If you are interested in contributing a research article in a similar area to the GaBI Journal, please send us your submission here.
Related articles
Iron carbohydrate follow-on NBCDs
Regulations for follow-on NBCDs
Status and regulatory issues surrounding follow-on NBCDs
References
1. Crommelin DJ, et al. The similarity question for biologicals and non-biological complex drugs. Eur J Pharm Sci. 2015;76:10-7.
2. GaBI Online - Generics and Biosimilars Initiative. EU guidelines for follow-on versions of NBCDs [www.gabionline.net]. Mol, Belgium: Pro Pharma Communications International; [cited 2015 Dec 11].
Permission granted to reproduce for personal and non-commercial use only. All other reproduction, copy or reprinting of all or part of any 'Content' found on this website is strictly prohibited without the prior consent of the publisher. Contact the publisher to obtain permission before redistributing.
Copyright – Unless otherwise stated all contents of this website are © 2015 Pro Pharma Communications International. All Rights Reserved.