FDA approves Proventil and Daraprim generics
Posted 08/05/2020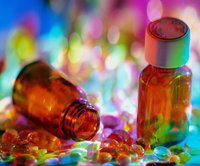 The US Food and Drug Administration (FDA) has approved the first generic version of a commonly used inhaler, marketed as Proventil, and the anti-parasitic Daraprim, which has previously been the subject of a price gouging scandal.
Pyrimethamine, which is sold under the brand-name Daraprim, is a treatment for parasitic diseases including toxoplasmosis, which may affect up to half of the global population. It is caused by the parasite Toxoplasma gondii, which can be contracted by eating undercooked meat, drinking contaminated water, or through contact with an infected cat.
Although toxoplasmosis is often asymptomatic, some people can experience a flu-like illness and the immuno-compromised may experience more severe symptoms, such as seizures. Severe symptoms are also more likely in pregnant women. It is considered the leading cause of death from foodborne illness in the US.
Daraprim, which is taken orally, is on the World Health Organization's (WHO) List of Essential Medicines. Despite its essential nature, the manufacturer Turing Pharmaceuticals increased the price of the treatment from US$13.50 to US$750 a tablet in 2015 – a 50-fold increase [1]. Even after the drug lost its patent, Turing (later renamed to Phonexius) maintained their monopoly on the drug.
This looks set to change as on 28 February 2020, FDA announced approval of the first generic version of the drug, which will be produced by New York-based company Cerovene.
FDA says its Drug Competition Action Plan aims to remove barriers to generic drug development and remove loopholes that have allowed brand-name drug companies to 'game' the rules in order to delay generics competition, such as preventing generics makers from obtaining drug samples. The agency posted a list of all drugs where this was a problem, which included Daraprim.
Commissioner Stephen M Hahn said in a statement: 'Empowering patients and promoting choice and competition are top priorities for FDA. These important efforts include improving access to safe, effective and high-quality generic medications. Today's approval is especially important for populations that are more susceptible to toxoplasmosis infections, such as pregnant women and individuals with HIV or AIDS by paving the way for more choices in treatment options'.
Following this, in April 2020 the Agency announced the first approval for a generic version of Proventil (albuterol), an inhaler used to open the airways in patients with asthma and chronic obstructive pulmonary disease (COPD). It is also on WHO's List of Essential Medicines. Costs for a month's supply in the US ranged between US$25 and US$50 in 2015.
The generic drug is approved at a 90 mcg/inhalation dosage and is produced by Indian manufacturer Cipla Ltd. Commissioner Hahn said the approval was important given the increased demand for albuterol during the coronavirus pandemic.
'We remain deeply committed to facilitating access to medical products to help address critical needs of the American public', he added.
Related articles
WHO prequalifies antiparasitic API
Alvotech and Cipla Gulf partnership announced
Prices for infectious disease treatments and how to reduce them
Reference
1. GaBI Online - Generics and Biosimilars Initiative. Limited distribution networks found to be anticompetitive [www.gabionline.net]. Mol, Belgium: Pro Pharma Communications International; [cited 2020 May 8]. Available from: www.gabionline.net/Generics/Research/Limited-distribution-networks-found-to-be-anticompetitive
Permission granted to reproduce for personal and non-commercial use only. All other reproduction, copy or reprinting of all or part of any 'Content' found on this website is strictly prohibited without the prior consent of the publisher. Contact the publisher to obtain permission before redistributing.
Copyright – Unless otherwise stated all contents of this website are © 2020 Pro Pharma Communications International. All Rights Reserved.