What can the US learn from the European biosimilars market?
Posted 12/02/2021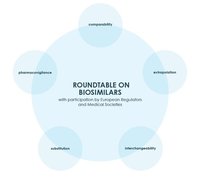 In a report produced for the Biosimilars Council, which is a division of the Association for Accessible Medicines (AAM), authors discuss the lessons that the US might learn from the European experience with biosimilars [1].
Although the US has now passed its 10th anniversary of the Biologics Price Competition and Innovation Act of 2009 (BPCI Act), which was signed into law on 23 March 2010 [2], the country still lags behind Europe when it comes to biosimilar approvals and uptake.
The US is comparable with Europe in terms of the number of reference biologicals with an approved biosimilar, however, it is generally behind Europe in terms of market maturity, number of biosimilar competitors for each reference biological and biosimilar market share. On the other hand, while Europe is often presented as the ideal market for biosimilars to flourish, the experience in reality differs from country to country.
The authors conclude that 'the comparison between the European and US biosimilars markets is more nuanced than many recognize, and there are important ways that the US market should depart from Europe's experience in order to better foster competition. But European policymakers and regulators have pursued some strategies that would help encourage biosimilar uptake in the US. US stakeholders have, to some extent, begun to pursue these strategies independently, but if we want to see the US biosimilars market take off in its second decade of existence, they should be embraced fully'.
The following series of articles discuss in more detail how the biosimilar markets in Europe and the US compare, biosimilar approvals and launches, education for biosimilars, incentives to prescribe biosimilars, switching and the need for regulators to evolve.
Related articles
Education for biosimilars in Europe and the US
Price controls, competition and tendering for biosimilars
How do the biosimilar markets in the US and Europe compare?
LATIN AMERICAN FORUM – Coming soon!
To further enhance the objectives of GaBI in sharing information and knowledge that ensure policies supportive of safe biosimilars use, we are pleased to announce that we will be launching a new section on GaBI Online and GaBI Journal, the 'Latin American Forum' (in Spanish) featuring the latest news and updates on research and developments in generic and biosimilar medicines in Latin America.
Register to receive the GaBI Latin American Forum newsletter. Inform colleagues and friends of this new initiative.
LATIN AMERICAN FORUM – Próximamente!
Para fomentar los objetivos de GaBI sobre la difusión de información y conocimiento sobre las políticas de apoyo que garantizan el uso seguro de medicamentos biosimilares, nos complace anunciar el lanzamiento de una nueva sección en GaBI Online y GaBI Journal, el 'Latin American Forum' (en español), que presentará las últimas noticias y actualizaciones en investigación y desarrollo sobre medicamentos genéricos y biosimilares en Latinoamérica.
Regístrese para recibir el boletín informativo GaBI Latin American Forum. Informe a colegas y amigos sobre esta nueva iniciativa.
References
1. Biosimilars Council. Brill A, Robinson C. Lessons for the United States from Europe's biosimilar experience. June 2020 [homepage on the Internet]. [cited 2021 Feb 12]. Available from: https://biosimilarscouncil.org/resource/europes-biosimilar-experience/
2. GaBI Online - Generics and Biosimilars Initiative. The evolution of biosimilars in the US [www.gabionline.net]. Mol, Belgium: Pro Pharma Communications International; [cited 2021 Feb 12]. Available from: www.gabionline.net/Reports/The-evolution-of-biosimilars-in-the-US
Permission granted to reproduce for personal and non-commercial use only. All other reproduction, copy or reprinting of all or part of any 'Content' found on this website is strictly prohibited without the prior consent of the publisher. Contact the publisher to obtain permission before redistributing.
Copyright – Unless otherwise stated all contents of this website are © 2021 Pro Pharma Communications International. All Rights Reserved.
Source: Biosimilars Council