Merck and Parexel form strategic alliance for biosimilars Posted 04/02/2011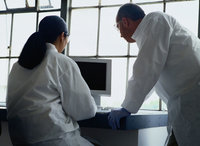 Merck Sharp and Dohme (MSD – known in the US and Canada as Merck) and Parexel, a leading global biopharmaceutical services provider, announced on 12 January 2011 that they have entered into an alliance by which Parexel will provide a broad range of clinical development services for designated biosimilar candidates to Merck BioVentures. Merck BioVentures is a division of MSD that focuses on biosimilars.
"Parexel has extensive, industry-leading experience with biosimilar development, and we truly understand the scientific complexities and regulatory pathways involved", said Mr Josef von Rickenbach, Chairman and CEO of Parexel. "We are committed to working with Merck BioVentures to assist in advancing its biosimilar portfolio in this rapidly developing market segment for the benefit of patients worldwide".

This means that Parexel will provide Merck BioVentures with expertise in regulatory affairs and clinical development planning. Together they plan to develop certain broad classes of biosimilars across various therapeutic areas, including exclusivity for certain candidates. The agreement also provides for the establishment of a dedicated Merck BioVentures unit within the Parexel organisation. Further details of the agreement were not disclosed.

"This agreement positions Merck BioVentures with a leading industry partner that has the expertise and resources to conduct clinical development of our diverse portfolio of candidates to allow timely delivery of products to the marketplace" said Dr Michael Kamarck, President of Merck BioVentures. The terms of the contract motivate Parexel to enrol patients quickly and generally execute the clinical trials in a speedy fashion.

MSD told investors last May that it expects to have five biosimilar medicines in late-stage tests by 2012. Dr Kamarck said the company is still on track to reach that goal. Among the medicines in development are versions of Amgen's granulocyte-colony stimulating factor formulations, Neupogen and Neulasta. While biosimilars have been under development in Europe for some years, the regulatory process has still not been finalised in the US. Guidelines are expected in mid-2011.

MSD's pipeline of drugs under development and other recent statements have pleased the market. Shares of both companies rose slightly when the joint venture was announced.