Adalimumab biosimilar FKB327 causes less pain than originator Posted 09/04/2021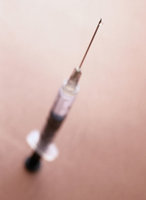 Fujifilm Kyowa Kirin Biologics' adalimumab biosimilar FKB327 has been found to cause less injection-site pain compared to the reference product, according to data from more than 1,001 subjects and patients [1].
Adalimumab is a monoclonal antibody treatment for a range of autoimmune conditions including rheumatoid arthritis, inflammatory bowel disease, and psoriasis. It is given by subcutaneous injection, targets the inflammatory molecule tumour necrosis factor, and has been sold under the brand name Humira by the originator firm AbbVie.

The Japanese company Fujifilm Kyowa Kirin Biologics has developed a biosimilar adalimumab, known as FKB327, which received approval from the Japanese medicine regulatory agency in July [2].

Previous studies have confirmed similarity between FKB327 and the reference product in terms of safety profile, efficacy and immunogenicity. Notably, FKB327 does not have the same citrate-containing formulation as the reference product, which is used as a buffer and has been associated with pain upon injection.

In a recent study featured in GaBI Journal [1], researchers pooled data from four different studies in order to compare injection-site pain caused by FKB327 with that of the reference product. The researchers also compared pain caused by autoinjector, pre-filled syringe and vial/syringe formulations. Data analysed included a total of 2,007 assessments in 1,001 subjects and patients.

Pain at the injection site was assessed using a 100 mm visual analogue scale score. Subjects were asked to rate the extent of their pain by placing a mark on a line, with the left point of the line signifying no pain and the right point signifying intolerable pain.

Comparisons of the injection-site pain score across studies revealed a 12.6 point lower pain score for the biosimilar compared to the reference product. In terms of formulations, the autoinjector was found to have a pain score 4.4 points lower than the vial/syringe formulation, and 1.1 points lower than the pre-filled syringe formulation.

Overall, this study suggests the citrate-free formulation of FKB327 causes less injection-site pain than reference adalimumab. There were also no statistically significant differences in adverse events between the two forms of adalimumab, suggesting the biosimilar is equally as safe.

These findings suggest that receiving adalimumab biosimilar in the form of FKB327 administered by an autoinjector may reduce pain experienced by patients, which may in turn improve treatment adherence.

Conflict of interest
Several of the study authors declared competing interests. These can be read in full in the paper [1].

Editor's comment
Readers interested to learn more about biosimilars of adalimumab are invited to visit www.gabi-journal.net to view the following manuscripts published in GaBI Journal:

Importance of manufacturing consistency of the glycosylated monoclonal antibody adalimumab (Humira®) and potential impact on the clinical use of biosimilars

Readers interested in contributing a research or perspective paper to GaBI Journal – an independent, peer reviewed academic journal – please send us your submission here.

GaBI Journal Citation Impact
1.7 – CiteScore 2019 (calculated on 6 May 2020)
1.9 – CiteScoreTracker 2020 (Last updated on 2 March 2021)

Submit a manuscript to GaBI Journal

Related articles
Relative bioavailability of FKB327 when administered using different methods

Fujifilm acquires Biogen Hillerød facility for US$890 million

LATIN AMERICAN FORUM – Coming soon!

To further enhance the objectives of GaBI in sharing information and knowledge that ensure policies supportive of safe biosimilars use, we are pleased to announce that we will be launching a new section on GaBI Online and GaBI Journal, the 'Latin American Forum' (in Spanish) featuring the latest news and updates on research and developments in generic and biosimilar medicines in Latin America.

Register to receive the GaBI Latin American Forum newsletter. Inform colleagues and friends of this new initiative.

LATIN AMERICAN FORUM – Próximamente!

Para fomentar los objetivos de GaBI sobre la difusión de información y conocimiento sobre las políticas de apoyo que garantizan el uso seguro de medicamentos biosimilares, nos complace anunciar el lanzamiento de una nueva sección en GaBI Online y GaBI Journal, el 'Latin American Forum' (en español), que presentará las últimas noticias y actualizaciones en investigación y desarrollo sobre medicamentos genéricos y biosimilares en Latinoamérica.

Regístrese para recibir el boletín informativo GaBI Latin American Forum. Informe a colegas y amigos sobre esta nueva iniciativa.

References
1. Alten R, Kellner H, Boyce M, et al. Systematic analysis of injection-site pain and reactions caused by subcutaneous administration of the adalimumab biosimilar FKB327 versus the adalimumab reference product via different delivery methods. Generics and Biosimilars Initiative Journal (GaBI Journal). 2020;9(3):108-15. doi:10.5639/gabij.2020.0903.019
2. GaBI Online - Generics and Biosimilars Initiative. Japanese approval for first adalimumab biosimilar [www.gabionline.net]. Mol, Belgium: Pro Pharma Communications International; [cited 2021 Apr 9]. Available from: www.gabionline.net/Biosimilars/News/Japanese-approval-for-first-adalimumab-biosimilar

Permission granted to reproduce for personal and non-commercial use only. All other reproduction, copy or reprinting of all or part of any 'Content' found on this website is strictly prohibited without the prior consent of the publisher. Contact the publisher to obtain permission before redistributing.

Copyright – Unless otherwise stated all contents of this website are © 2021 Pro Pharma Communications International. All Rights Reserved.