Improving stakeholder understanding about biosimilars Posted 19/02/2021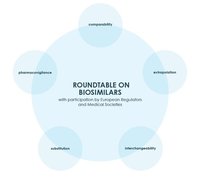 The arrival of biosimilars provides benefits for healthcare systems and patients by lowering treatment costs and improving patient access to biologicals. Despite these benefits and demonstrated comparability with the reference biological, the use of biosimilars varies across regions and remains limited in some cases. This may be partially due to a lack of knowledge and understanding among healthcare professionals and patients about biosimilars, limiting their willingness to use them.
In this context, a study by Barbier et al. reviewed the scientific literature investigating the knowledge of healthcare professionals and patients about biosimilars. They conducted semi-structured expert interviews with healthcare professionals (physicians, hospital pharmacists, nurses), patient(s) (representatives) and regulators across Europe, with the aim of proposing recommendations on how to improve stakeholder knowledge and trust in biosimilars [1].

In total, 106 research articles that assessed the knowledge of healthcare professionals or patients about biosimilars were identified and reviewed. Although improvements in knowledge were observed over time, generally low to moderate levels of awareness, knowledge and trust towards biosimilars among healthcare professionals and patients were noted. Stakeholder concerns mainly related to uncertainty regarding the efficacy and safety of biosimilars and questions about extrapolation of indications, immunogenicity and interchangeability. The variable knowledge and acceptance of biosimilars among stakeholders underlines the need for continued evidence-based information and education about biosimilars.

During the expert interviews (N = 44), a lack of practical information about biosimilars and their use, a lack of understanding about biosimilar concepts and a lack of knowledge about biologicals in general were recognized as factors that challenge healthcare professional and patient's acceptance of biosimilars. Misinformation by the originator industry was also believed to have impacted trust in the use of biosimilars. As derived from the interviews, increasing biosimilar understanding and acceptance among stakeholders requires a multifactorial and interdisciplinary approach. A coordination of efforts on different stakeholder levels is needed in this regard. Based on the study results, the authors propose actions to be centred around 10 actionable recommendations. Providing stakeholders with objective information about the biosimilar approval pathway, ensuring active information uptake, dispelling biosimilar misinformation and communicating biosimilar implementation experiences are among the suggested actions. The results and recommendations of this study can inform policymaking and other stakeholder initiatives to increase biosimilar understanding among healthcare professionals and patients.

Conflict of interest
Several of the authors of the research paper [1] reported conflict of interest, including being involved in consulting, advisory work and speaking engagements, stakeholder roundtables, participating in advisory board meetings and contributing to studies on biologicals and biosimilars for pharmaceutical companies.

For full details of the authors' conflict of interest, see the research paper [1].

Abstracted by Liese Barbier, PhD Researcher, Regulatory Evaluation and Market Access Biosimilars, Department of Pharmaceutical and Pharmacological Sciences, KU Leuven, Belgium.

GaBI Journal Citation Impact
1.7 – CiteScore 2019 (calculated on 6 May 2020)
2.0 – CiteScoreTracker 2020 (Last updated on 7 February 2021)

Submit a manuscript to GaBI Journal

Related articles
Biosimilar education gaps in oncology

Biosimilars education still needed for US and EU clinicians

LATIN AMERICAN FORUM – Coming soon!

To further enhance the objectives of GaBI in sharing information and knowledge that ensure policies supportive of safe biosimilars use, we are pleased to announce that we will be launching a new section on GaBI Online and GaBI Journal, the 'Latin American Forum' (in Spanish) featuring the latest news and updates on research and developments in generic and biosimilar medicines in Latin America.

Register to receive the GaBI Latin American Forum newsletter. Inform colleagues and friends of this new initiative.

LATIN AMERICAN FORUM – Próximamente!

Para fomentar los objetivos de GaBI sobre la difusión de información y conocimiento sobre las políticas de apoyo que garantizan el uso seguro de medicamentos biosimilares, nos complace anunciar el lanzamiento de una nueva sección en GaBI Online y GaBI Journal, el 'Latin American Forum' (en español), que presentará las últimas noticias y actualizaciones en investigación y desarrollo sobre medicamentos genéricos y biosimilares en Latinoamérica.

Regístrese para recibir el boletín informativo GaBI Latin American Forum. Informe a colegas y amigos sobre esta nueva iniciativa.

Reference
1. Barbier L, Simoens S, Vulto AG, et al. European stakeholder learnings regarding biosimilars: Part I—improving biosimilar understanding and adoption. BioDrugs 2020;34(6):783-96.

Permission granted to reproduce for personal and non-commercial use only. All other reproduction, copy or reprinting of all or part of any 'Content' found on this website is strictly prohibited without the prior consent of the publisher. Contact the publisher to obtain permission before redistributing.

Copyright – Unless otherwise stated all contents of this website are © 2021 Pro Pharma Communications International. All Rights Reserved.