Positive phase I data for infliximab biosimilar Posted 24/01/2013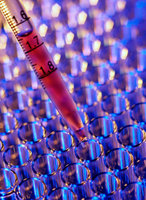 US-based Epirus Biopharmaceuticals (Epirus) announced on 4 January 2013 that its biosimilar infliximab candidate had 'achieved bioequivalence' to Remicade (infliximab) in a single dose comparator trial.
The single centre, double blind, randomized parallel group trial was approved by the UK's Medicines and Healthcare Regulatory Agency in February 2012. The phase I trial was carried out in 84 healthy male volunteers each of whom received a 5 mg/kg single infusion of Epirus's biosimilar (BOW‑015) or Remicade.

The results of the trial showed that 'BOW-015 met both the primary objectives of bioequivalence in Cmax, AUC0-t and AUC0-∞, as well as the secondary objectives of safety, tolerability and immunogenicity.'

Professor Jonathan Kay, Professor of Medicine, University of Massachusetts Medical School, and Director of Clinical Research, Division of Rheumatology, UMass Memorial Medical Center, Worcester, Massachusetts, USA, commented that 'the data from this phase I study are encouraging and support the bioequivalence of BOW-015 with Remicade. Biosimilars, when developed with the proper rigour, will offer patients around the world similarly effective biological therapies that should be less costly than those currently available.'

Johnson & Johnson's Remicade was approved by EMA in August 1999. It is a monoclonal antibody against tumour necrosis factor alpha (TNF-α), used to treat autoimmune diseases. The drug is indicated in the EU for the treatment of ankylosing spondylitis, rheumatoid arthritis, ulcerative colitis, psoriatic arthritis, Crohn's Disease and psoriasis. The blockbuster had worldwide sales of US$8.5 billion in 2011. The patent in the US expired in 2011 and in the EU, Japan and elsewhere globally the patent is expected to expire in 2014.

Epirus is currently conducting a controlled phase III trial with BOW-015, with initial data expected in late 2013 and the first market launch of the biosimilar expected to be in 2014.

Epirus has another undisclosed protein therapeutic biosimilar in phase III development, BOW-020, which is also expected to be launched in 2014, as well as four monoclonal antibody biosimilars in preclinical development.

The company, which was formerly known as fourteen22, was financed in early 2011 by 5AM Ventures, Montreux Equity Partners and TPG Biotech.

Editor's comment
It should be noted that comparative bioavailability studies do not prove 'bioequivalence'. They merely find or fail to find statistically significant differences in drug exposure with a given degree of statistical probability; usually only in a small number of normal healthy volunteers, and often without looking at food effects.

Related articles

Biosimilar monoclonal antibodies on the horizon in Europe

Reliance Life Sciences starts 'similar' infliximab trial in India

EMA receives second application for biosimilar infliximab

Permission granted to reproduce for personal and educational use only. All other reproduction, copy or reprinting of all or part of any 'Content' found on this website is strictly prohibited without the prior consent of the publisher. Contact the publisher to obtain permission before redistributing.