Sustainable biosimilar policies in Europe Posted 31/07/2020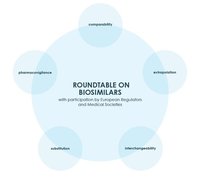 A review of approaches to biosimilar policy in Europe [1] highlights key principles for a sustainable biosimilar market, including supporting innovation and allowing for multiple suppliers.
Europe has the world's largest biosimilar market, accounting for approximately 60% of the global biosimilars market, and growing annually. European countries therefore serve as valuable examples of successful approaches to biosimilar policy.

A recent review [1] analysed the different approaches to biosimilar policy across Europe, identifying several key principles which can be applied in other countries to develop a sustainable biosimilar market.

The authors reviewed four reports/studies and position statements describing the factors and conditions required for developing a sustainable biosimilar market. As a result, they defined six policy requirements for a sustainable market for biosimilar products:
Policies should be designed to incentivize and reward innovation for all biologicals.
Healthcare financing must take into account societal benefits derived from biological medicines, as well as their unique characteristics.
Procurement practices must provide for multiple suppliers and a minimum term of 12 months.
Physicians must have autonomy to choose the most appropriate medicine for their patient, including making decisions on switching, which must also be consented to by the patient; no automatic substitution.
There should be mandatory brand-name prescribing to avoid unintended switches as well as a robust pharmacovigilance system to report adverse drug reactions.
Policies with the potential to undermine sustainability and limit physician choice should be avoided.
They also highlighted three 'must-haves' for the long-term success of biosimilar markets:
Physicians should have the freedom to choose between off-patent originator biologicals and available biosimilars and to act in the best interest of their patients.
Tenders should be designed to include multiple value-based criteria beyond price and provide a sufficient broad choice (multi-winner tenders versus single-winner tenders) to ensure continuity of supply and healthy competition.
A level playing field between all participating manufacturers is the best way to foster competition; mandatory discounts which place artificial downward pressure on manufacturers do not engender a sustainable market.
Other elements recommended by some of the studies included the rapid market entry of biosimilars once the originator drug has lost patent exclusivity and incentives for prescribing biosimilars.

The authors went on to discuss specific examples of European biosimilar markets. For instance, Norway and Denmark have a national tender policy for some biosimilars and in Denmark only the manufacturer with the lowest bidding price for a particular molecule will be reimbursed and only for a 12-month period.

In Sweden, each county runs their own tenders which makes the market more sustainable for all competitors, as they can compete in more than one tender. In Germany, which has the largest retail market in Europe, pricing is free, allowing for competition both at the list price level as well as towards individual sick funds based on discount agreements. Examples are given for various other countries in the full review [1].

Although policies vary by nation, the review says all major European markets share the following principles:
Automatic substitution for biologicals is forbidden.
All approved biologicals (originator or biosimilar) are available on the market and are reimbursed when prescribed.
Reimbursement decisions on novel treatment solutions are independent from biosimilar use and uptake.
The time from market approval to first product sales for biosimilars is shorter than the time to first sales of novel medicines.
The authors say that other countries formulating their biosimilar policies must find a balance between making immediate cost savings and more sustainable savings in the long term, while protecting innovation.

European experience shows that the most effective policies provide continuous information on biosimilars, stimulate manufacturer competition, guarantee a sufficiently broad choice of products, are non-discriminatory towards either originator or biosimilar medicines, and allow the treating physician to choose the most appropriate product in consultation with their patient. Other recommend incentives, such as prescribing quotas for biosimilars, have recently been shown as effective in Germany [2].

Conflict of interest
The review [1] was funded by the Alliance for Safe Biologic Medicines (ASBM). For full details of the authors' conflict of interest, see the research paper [1].

Editor's comment
Readers interested to learn more about biosimilars in Europe are invited to visit www.gabi-journal.net to view the following manuscripts published in GaBI Journal:

Trends and challenges in biosimilars pricing and reimbursement policies in Europe and beyond

Biosimilar product labels in Europe: what information should they contain?

European prescribers' attitudes and beliefs on biologicals prescribing and automatic substitution

Readers interested in contributing a research or perspective paper to GaBI Journal – an independent, peer reviewed academic journal – please send us your submission here.

Related articles
Biosimilars applications under review by EMA – July 2020

EMA approves bevacizumab and teriparatide biosimilars

How to support a viable US biosimilars market

References
1. Schneider PJ, Reilly MS. Policy recommendations for a sustainable biosimilars market: lessons from Europe. Generics and Biosimilars Initiative Journal (GaBI Journal). 2020;9(2):76-81 doi:10.5639/gabij.2020.0902.013
2. GaBI Online - Generics and Biosimilars Initiative. Quotas improve biosimilar use in Germany [www.gabionline.net]. Mol, Belgium: Pro Pharma Communications International; [cited 2020 Jul 31]. Available from: www.gabionline.net/Biosimilars/Research/Quotas-improve-biosimilar-use-in-Germany

Permission granted to reproduce for personal and non-commercial use only. All other reproduction, copy or reprinting of all or part of any 'Content' found on this website is strictly prohibited without the prior consent of the publisher. Contact the publisher to obtain permission before redistributing.

Copyright – Unless otherwise stated all contents of this website are © 2020 Pro Pharma Communications International. All Rights Reserved.