Home / Biosimilars / Research / Switching from reference to biosimilar infliximab in ankylosing spondylitis patients
Switching from reference to biosimilar infliximab in ankylosing spondylitis patients Posted 06/09/2019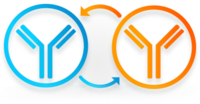 Ankylosing spondylitis (AS) is a chronic inflammatory rheumatic disease that affects the spine and the sacroiliac (SI) joints. AS is a type of seronegative spondyloarthropathy [meaning that tests show no presence of rheumatoid factor (RF) antibodies] or axial spondyloarthritis (SpA), i.e. it is a chronic, autoinflammatory disease predominantly affecting the axial skeleton [1].
The advent of biological disease-modifying anti-rheumatic drugs (bDMARDs) and more specifically antitumour necrosis factor (TNF) agents, has transformed the everyday life of patients suffering from rheumatic diseases. On the other hand, the total mean annual cost for those on bDMARDs is very high [2]. In an era of economic austerity, biosimilars offer an opportunity, not only to reduce healthcare costs, but also to improve access to biologicals [2].

A biosimilar is a biological medicine that is highly similar to another biological medicine that has already been authorized for use [3]. These drugs receive authorization based on an abbreviated regulatory application containing comparative quality, non-clinical and clinical data that demonstrate similarity to a licensed biological product.

Currently, there are three anti-TNF biosimilars that have been granted authorization for the treatment of AS. Infliximab was the first biosimilar approved based on evidence from the PLANETAS study [4] followed by etanercept and adalimumab. Biosimilar etanercept has been demonstrated to be equivalent to originator etanercept, including pharmacodynamic and pharmacokinetic activities. Biosimilar etanercept has also demonstrated the same efficacy and safety in all indications [5, 6]. Furthermore, the current body of evidence suggests that biosimilar adalimumab is highly similar to originator adalimumab in terms of safety, efficacy and tolerability [7].

A recent 18-month comparative open-label study using real-world data showed that biosimilar infliximab is equivalent to originator infliximab in maintaining AS in clinical remission for the aforementioned period [8]. In more detail, this study recruited 109 consecutive unselected AS patients that were in clinical remission using a dosage scheme of 5 mg/kg/8 weeks. Clinical remission was defined as patients that had a Bath Ankylosing Spondylitis Disease Activity Index (BASDAI) <4 and an Ankylosing Spondylitis Disease Activity Score (ASDAS) <1.3. All patients were naïve to other biologicals and were followed-up at predefined times when receiving the originator infliximab. Patients who were in clinical remission were asked to switch from the originator infliximab to biosimilar infliximab, using the same therapeutic dose, after shared decision-making.

During the follow-up period, clinical examination was unremarkable and acute phase reactants were within normal limits. Interestingly, four patients receiving biosimilar infliximab presented nocebo effects, that is non-specific, subjective complaints such as headache, somnolence, dizziness, arthralgias, fatigue and pain.

Biosimilars represent a safe alternative and an important new generation of drugs in a rheumatologist's armamentarium. There is an increasing body of evidence in this direction but more real-world data is needed. Shared decision-making seems to minimize the size of the nocebo effect.

Conflict of interest
The authors of the research paper [8] declared that they have no relevant affiliations or financial involvement with any organization or entity with a financial interest in or financial conflict with the subject matter or materials discussed in this abstract. They also declared that this abstract has not been funded by any means.

Abstracted by Evripidis Kaltsonoudis, Rheumatology Clinic, Department of Internal Medicine, Medical School, University of Ioannina, Ioannina, Greece.

Editor's comment
Readers interested to learn more about switching to infliximab biosimilars are invited to visit www.gabi-journal.net to view the following manuscripts published in GaBI Journal:

Randomized non-inferiority trial fails to find inferiority switching from infliximab originator to CT-P13 biosimilar

BSG guidance recommends switching to biosimilar infliximab

Readers interested in contributing a research or perspective paper to GaBI Journal – an independent, peer reviewed academic journal – please send us your submission here.

Related articles
Is switching to biosimilar infliximab safe?

NOR-SWITCH study finds biosimilar infliximab not inferior to originator

References
1. Pelechas E, Kaltsonoudis E, Voulgari PV. In: Pelechas E, editor. Illustrated handbook of rheumatic and musculo-skeletal diseases. Springer; 2019. p. 121-140.
2. Mulcahy AW, Hlavka JP, Case SR. Biosimilar cost savings in the United States: initial experience and future potential. Rand Health Q. 2018;7(4):3.
3. Kos IA, Azevedo VF, Neto DE, et al. The biosimilars journey: current status and ongoing challenges. Drugs Context. 2018;7:212543.
4. Park W, Hrycaj P, Jeka S, et al. A randomised, double-blind, multicenter, parallel-group, prospective study comparing the pharmacokinetics, safety, and efficacy of CT-P13 and innovator infliximab in patients with ankylosing spondylitis: the PLANETAS study. Ann rheum Dis. 2013;72(10):1605-12.
5. Matucci-Cerinic M, Allanore Y, Kavanaugh A, et al. Efficacy, safety and immunogenicity of GP2015, an etanercept biosimilar, compared with the reference etanercept in patients with moderate-to-severe rheumatoid arthritis: 24-week results from the comparative phase III, randomised, double-blind EQUIRA study. RMD Open. 2018;4(2):e000757. doi:10.1136/rmdopen-2018-000757. eCollection 2018.
6. Pelechas E, Drosos AA. Etanercept biosimilar SB-4. Expert Opin Biol Ther. 2019;19(3):173-9.
7. Pelechas E, Voulgari PV, Drosos AA. ABP 501 for the treatment of rheumatoid arthritis. Expert Opin Biol Ther. 2018;18(3):317-22.
8. Kaltsonoudis E, Pelechas E, Voulgari PV. Maintained clinical remission in Ankylosing Spondylitis patients switched from reference infliximab to its biosimilar: an 18-month comparative open-label study. J Clin Med. 2019;8(7). pii: E956.

Permission granted to reproduce for personal and non-commercial use only. All other reproduction, copy or reprinting of all or part of any 'Content' found on this website is strictly prohibited without the prior consent of the publisher. Contact the publisher to obtain permission before redistributing.

Copyright – Unless otherwise stated all contents of this website are © 2019 Pro Pharma Communications International. All Rights Reserved.