The role of authorized generics in improving access to medicines Posted 05/03/2021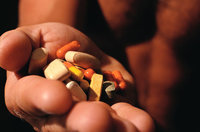 In recent years, many authorized generic drug products have been launched by pharmaceutical companies at lower prices than their brand-name originators. A recent viewpoint, published in JAMA Internal Medicine [1], discusses the ways that authorized generics are launched in the US. It also considers whether these products improve lower costs and access to medicines.
Authorized generics are made by the pharmaceutical companies that produce the brand-name originator drug products. They are exact copies of brand-name products without the associated brand labelling. Importantly, unlike traditional generic drugs which must meet bioequivalence testing standards through an abbreviated new drug application (ANDA), authorized generics do not need to undergo additional testing or approval processes. Instead, the new drug application holder must notify the US Food and Drug Administration (FDA) if it intends to market an authorized generic drug.

The three strategies that underlie authorized generics market entry
Strategy 1: Launching during generics exclusivity period
To encourage rapid generics entry, the Hatch-Waxman Act provides a 180-day exclusivity period to the first company that files an ANDA that successfully challenges the patent of a brand-name drug. During this period, the company can gain market share while keeping the generic drug's price high. However, brand-name drug manufacturers can introduce an authorized generic when a traditional generic drug is first marketed or later. If they choose to launch during the 180-day exclusivity period, they can limit the market share to the first traditional generic drug product's market share.

Strategy 2: Reverse payment agreements
In some cases, 'reverse payment' agreements are made in which the brand-name drug manufacturer compensates the generics manufacturer for not marketing the drug. Such strategies are tied to 'pay-for-delay' agreements.

Strategy 3: Authorized generics launch when substantial brand-name patent life remains
Finally, manufacturers can market authorized generics when substantial patient life remains on the brand-name drugs. This strategy enables manufacturers to use authorized generics entry, with large list price reductions, reduce pressure to decrease the price of prescription drugs.

The authors conclude that authorized generics should meaningfully reduce spending on prescription drugs. However, through their strategies, they can become a distraction from more effective measures to decrease drug prices and improve access to medicines.

Related articles
Cost-effectiveness of generic dabigatran

How to support a viable US biosimilars market

FDA plans to advance development of complex generics in 2019

LATIN AMERICAN FORUM – Coming soon!

To further enhance the objectives of GaBI in sharing information and knowledge that ensure policies supportive of safe biosimilars use, we are pleased to announce that we will be launching a new section on GaBI Online and GaBI Journal, the 'Latin American Forum' (in Spanish) featuring the latest news and updates on research and developments in generic and biosimilar medicines in Latin America.

Register to receive the GaBI Latin American Forum newsletter. Inform colleagues and friends of this new initiative.

LATIN AMERICAN FORUM – Próximamente!

Para fomentar los objetivos de GaBI sobre la difusión de información y conocimiento sobre las políticas de apoyo que garantizan el uso seguro de medicamentos biosimilares, nos complace anunciar el lanzamiento de una nueva sección en GaBI Online y GaBI Journal, el 'Latin American Forum' (en español), que presentará las últimas noticias y actualizaciones en investigación y desarrollo sobre medicamentos genéricos y biosimilares en Latinoamérica.

Regístrese para recibir el boletín informativo GaBI Latin American Forum. Informe a colegas y amigos sobre esta nueva iniciativa.

Reference
1. Dusetzina SB, Keating NL, Huskamp HA. Authorized generics and their evolving role in prescription drug pricing and access. Jama Intern Med. 2021 Jan 25.

Permission granted to reproduce for personal and non-commercial use only. All other reproduction, copy or reprinting of all or part of any 'Content' found on this website is strictly prohibited without the prior consent of the publisher. Contact the publisher to obtain permission before redistributing.

Copyright – Unless otherwise stated all contents of this website are © 2021 Pro Pharma Communications International. All Rights Reserved.