FDA publishes historic drug approvals and searchable Purple Book Posted 13/03/2020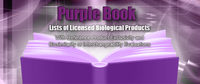 The US Food and Drug Administration (FDA) has released a dataset of drug approvals dating back to 1985 and an online, searchable version of the Purple Book of licensed biologicals.
On 21 February 2020, FDA launched a dataset of all originator drugs (including biologicals) approved by the Center for Drug Evaluation and Research (CDER). The agency hopes the resource will help researchers to access more accurate information about drug approvals.

A statement from FDA says that the agency 'created the compilation to facilitate data accessibility, transparency, and accuracy when researchers seek information about an approved drug'. FDA adds that although it 'continues to provide updated information on its drug approvals through several other publicly accessible sources, this new resource will consolidate information for each NME [New Molecular Entity] approval. The data published in this compilation is derived from FDA internal databases and document records, and – to the best of our knowledge – reflects the state of each application at the time of initial regulatory approval.'

The resource is named the 'Compilation of CDER New Molecular Entity (NME) Drug and New Biologic Approvals' and is available as a CSV file. Currently containing data from 1985 to the end of 2019, the resource will be updated periodically.

The document provides, for each product: proprietary name, active ingredient, applicant, application type, application number, dosage form, route of administration, receipt and approval dates, approved indications and uses, designations and whether a priority review voucher was issued or redeemed for the application. FDA has also published an accompanying 'data dictionary' to provide definitions for each field in the spreadsheet.

FDA says that they aim to 'meet researchers requests for more accessible information' with the resource and are still looking for 'opportunities to provide more easily-accessible and accurate drug-approval data'.

The agency has also made its Purple Book, which lists licensed biologicals, including biosimilars and interchangeable biologicals, available as a searchable online dataset.

The book can now be searched using the product's proprietary (brand) name or its non-proprietary (proper) name and includes information on when the product was licensed, whether it was evaluated for reference product exclusivity and whether it has been determined to be biosimilar.

At the current time information is available only on licensed biosimilar and interchangeable products, as well as their reference products, but FDA is working to expand the online database to include information about all FDA-licensed biologicals. The online database will eventually replace the Purple Book list.

This follows the announcement in May 2019 that both the Orange Book (containing a list of FDA-approved pharmaceuticals and their generics equivalents) and Purple Book would be published on the FDA website and updated routinely [1].

Related articles
FDA issues new rule on definition of term 'biological product'

FDA issues new guidance for biosimilar user fees

FDA debuts purple book for biologicals and interchangeable biosimilars

Reference
1. GaBI Online - Generics and Biosimilars Initiative. FDA's Orange and Purple Books to be improved and updated [www.gabionline.net]. Mol, Belgium: Pro Pharma Communications International; [cited 2020 Mar 13]. Available from: www.gabionline.net/Policies-Legislation/FDA-s-Orange-and-Purple-Books-to-be-improved-and-updated

Permission granted to reproduce for personal and non-commercial use only. All other reproduction, copy or reprinting of all or part of any 'Content' found on this website is strictly prohibited without the prior consent of the publisher. Contact the publisher to obtain permission before redistributing.

Copyright – Unless otherwise stated all contents of this website are © 2020 Pro Pharma Communications International. All Rights Reserved.