Advances in ranibizumab and teriparatide biosimilars Posted 21/04/2017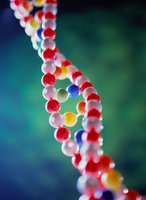 Positive results have been reported from a ranibizumab biosimilar and a teriparatide biosimilar has entered phase III trials.
Xbrane Biopharma reported positive in-vitro biosimilarity data for its ranibizumab biosimilar, Xlucane, on 27 February 2017. The comprehensive in-vitro biosimilarity study was carried out with several pilot scale R & D batches of Xlucane versus several batches of the reference product. The study was carried out in accordance with European Medicines Agency (EMA) and US Food and Drug Administration's (FDA) biosimilar guidelines.

The analytical methods used compared the proteins along five key dimensions: primary structure (amino-acid sequence), higher order structure (folding of the protein), binding characteristics (binding with the growth factor VEGFa), biological activity (activity in terms of growth inhibition on living cells) and purity. According to Xbrane, the results 'demonstrates no significant difference of Xlucane versus the reference product on the most important parameters', i.e. primary structure, higher order structure, binding characteristics and biological activity. Although purity was 'slightly lower', the company says it will address this 'during the scale-up of the production process'.

The originator product, blockbuster wet age-related macular degeneration (AMD) treatment Lucentis (ranibizumab) is marketed by Genentech (Roche)/Novartis. The patents on Lucentis will expire in the US in June 2020 and in Europe in 2022 [1].

US-based biotech firm Pfenex started a phase III trial for its teriparatide biosimilar PF708 in December 2016, according to clinicaltrials.gov. The product is a biosimilar of Eli Lilly's osteoporosis treatment Forteo/Forsteo (teriparatide).

The aim of Pfenex's study is to compare PF708 and Forteo in patients with osteoporosis in terms of anti-drug antibodies (ADAs), plasma area-under-the-curve (AUC) and maximum concentration (Cmax) of teriparatide, as well as mean percentage change in lumbar-spine bone mineral density (BMD). The randomized, parallel-group, open-label, multi-centre study will be conducted in the US. It will include 168 men and women with osteoporosis and is expected to complete in April 2018.

The patents on Forteo/Forsteo expire in the US and in Europe in August 2019 [1].

Related articles
Biosimilars of teriparatide

Reference
1. Derbyshire M. Patent expiry dates for biologicals: 2016 update. Generics and Biosimilars Initiative Journal (GaBI Journal). 2017;6(1):27-30. doi:10.5639/gabij.2017.0601.006

Permission granted to reproduce for personal and non-commercial use only. All other reproduction, copy or reprinting of all or part of any 'Content' found on this website is strictly prohibited without the prior consent of the publisher. Contact the publisher to obtain permission before redistributing.

Copyright – Unless otherwise stated all contents of this website are © 2017 Pro Pharma Communications International. All Rights Reserved.
Source: clinicaltrials.gov, Xbrane