Home / Biosimilars / News / FDA approves Amgen's and Johnson & Johnson's the risk evaluation and mitigation strategy (REMS) for erythropoiesis-stimulating agents (ESAs)
FDA approves Amgen's and Johnson & Johnson's the risk evaluation and mitigation strategy (REMS) for erythropoiesis-stimulating agents (ESAs) Posted 05/03/2010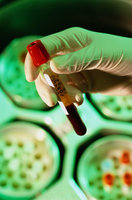 Amgen and Johnson & Johnson (J&J) announced on 16 February 2010 that the US FDA approved the companies' risk management strategy for patients with chemotherapy-induced anaemia who are receiving erythropoiesis-stimulating agents (ESAs), including Amgen's Aranesp (darbepoetin alfa) and Epogen (epoetin alfa), and Johnson & Johnson's Procrit (epoetin alfa).
The FDA determined in 2008 that the risk evaluation and mitigation strategy (REMS) was necessary based on data from clinical studies indicating there was a risk that the products could shorten overall survival and increase tumour progression or recurrence in patients with breast, non-small-cell lung, head and neck, lymphoid and cervical cancers, the drugmakers explained.

As part of the programme, healthcare professionals who prescribe ESAs will be required as of 24 March 2010 to undergo training on the risks and benefits of ESAs in order to continue prescribing the products. Physicians must also document that they have discussed the drugs' risks prior to the initiation of each new ESA treatment course. The drugmakers will also distribute a medication guide to consumers to explain the drugs' benefits and risks.

Sales of Aranesp declined 15% in 2009 to US$2.7 billion compared with the prior year, while revenue for Procrit was down 9% to US$2.3 billion on safety concerns and the strengthening of warnings on the products' labels.

For oncology patients, the updated label warns that ESAs "caused tumour growth and shortened survival in patients with advanced breast, head and neck, lymphoid and non-small-cell lung cancer when they received a dose that attempted to achieve a haemoglobin level of 12 grams per decilitre or greater." The revised labelling also states that the drugs should only be used to treat anaemia caused by chemotherapy and discontinued after chemotherapy has been completed. The agency added that for patients with cancer, ESAs should be used at the lowest level needed to avoid blood transfusions.

A separate FDA review is in progress regarding the use of ESAs in patients with chronic kidney disease, with an advisory panel meeting planned for later this year. For patients with chronic renal failure, the drugs' boxed labelling now states that ESAs should be used to maintain haemoglobin levels between 10 grams per decilitre and 12 grams per decilitre, and that maintaining higher levels in such patients raises the risk of death and serious cardiovascular events. Furthermore, the revised safety information for ESAs in these patients specifies that use of the drugs in hypo-responders should be reduced after 12 weeks if these patients don't respond.

References:

Lianne Dane. FDA approves Amgen, Johnson & Johnson's plan to manage risks of ESAs. FirstWord. 2010 February 16.

Bryan DeBusk. FDA advisory panel votes to restrict use of anaemia drugs. FirstWord. 2008 March 13.

Daniel Beaulieu. FDA strengthens labels for ESAs. FirstWord. 2007 November 8.