Positive phase III results for omalizumab copy biological Posted 27/05/2016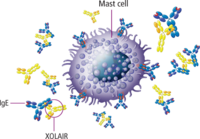 US-based biopharmaceutical company Sorrento Therapeutics (Sorrento) announced on 16 May 2016 that its partner, MabTech had successfully completed a combined phase II and III clinical trial in China for STI-004, a copy biological for omalizumab (Xolair). STI 004 met its primary endpoint in a multicentre, randomized, double-blind, placebo-controlled, clinical study.
The two companies entered into a deal back in August 2015, when MabTech, a holding company for China mAb biotechs, in-licensed four monoclonal antibodies to Sorrento. All of the candidate copy biologicals had completed phase III trials in China.

Omalizumab is a recombinant DNA-derived humanized IgG1k monoclonal antibody that specifically binds to free human immunoglobulin E (IgE) in the blood and interstitial fluid and to membrane-bound form of IgE (mIgE) on the surface of mIgE-expressing B lymphocytes [1]. Unlike an ordinary anti-IgE antibody, it does not bind to IgE that is already bound by the high affinity IgE receptor (FcεRI) on the surface of mast cells, basophils, and antigen-presenting dendritic cells. The originator product Novartis's Xolair (omalizumab) is indicated for the treatment of moderate to severe persistent asthma and chronic idiopathic urticaria despite antihistamine treatment.

In the 32-week study, asthma exacerbation was experienced by 21% of patients taking STI-004 compared to 55% of patients in the placebo group. In addition to significantly reducing asthma exacerbations, STI-004 demonstrated improved quality of life and pulmonary function while also reducing the dosage of budesonide and the use of asthma rescue medications. When compared to the currently marketed originator product, Xolair, the types and incidence rates of adverse events were similar.

Dr Henry Ji, President and CEO of Sorrento Therapeutics, commented that 'STI-004 has demonstrated clinical efficacy and safety during the phase 2 & 3 clinical trial conducted by our partner MabTech' …showing it to be 'comparable to the currently marketed product'.

Sorrento reports that it is making progress with the development of all four monoclonal antibody copy biologicals in Sorrento's territories, which include North America, European Union and Japan, while MabTech seeks market approval for STI-004 in China. The company also reported positive phase III results for its cetuximab and infliximab copy biologicals in January 2016 [1].

The company is also working on a copy biological of basiliximab (STI-003) and is developing a robust pipeline of future product candidates.

Editor's comment
It should be noted that 'copy biologicals' approved in China might not have been authorized following as strict a regulatory process as is required for approval of biosimilars in the European Union. The EMA (European Medicines Agency) regulatory requirements ensure the same high standards of quality, safety and efficacy for biosimilars as for originator biologicals, and also include a rigorous comparability exercise with the reference product.

Related articles
Biosimilars of infliximab

Reference
1. GaBI Online - Generics and Biosimilars Initiative. Positive phase III results for cetuximab and infliximab copy biologicals [www.gabionline.net]. Mol, Belgium: Pro Pharma Communications International; [cited 2016 May 27]. Available from: www.gabionline.net/Biosimilars/Research/Positive-phase-III-results-for-cetuximab-and-infliximab-copy-biologicals

Permission granted to reproduce for personal and non-commercial use only. All other reproduction, copy or reprinting of all or part of any 'Content' found on this website is strictly prohibited without the prior consent of the publisher. Contact the publisher to obtain permission before redistributing.

Copyright – Unless otherwise stated all contents of this website are © 2016 Pro Pharma Communications International. All Rights Reserved.