Asian specialists' recommendations for off-patent biologicals in IBD Posted 19/07/2019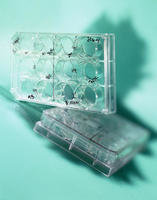 Gastroenterologists from across Asia have published a list of recommendations for the use of biologicals and off-patent biologicals in inflammatory bowel disease (IBD) in Asia [1].
The Asia-Pacific Working Group on IBD and the Asian Organization for Crohn's and Colitis conducted a review of the existing literature. This was carried out in order to establish a consensus on when and how to introduce biologicals and off-patent biologicals in conjunction with conventional treatments for ulcerative colitis (UC) and Crohn's disease (CD) in Asia.

Data demonstrating the safety, efficacy of biologicals, such as infliximab, adalimumab and their corresponding off-patent biologicals, was reviewed and summarized in the consensus statement.

With respect to off-patent biologicals, the consensus group stated that 'currently approved biosimilars are as safe and effective as reference products and can be used as induction and maintenance therapy for both CD and UC'. A total of 94% of the members of the group agreed with this statement and the group said that the quality of the evidence was good – being obtained from well-designed cohort or case-controlled studies.

The consensus group made the following recommendations for off-patent biologicals:
• Off-patent biologicals should be prescribed by brand name as well as by international non-proprietary name.
• It is the responsibility of healthcare professionals to make sure that there is shared decision-making by giving all the relevant information and confirm informed consent before initiating off-patent biologicals administration, taking into consideration the preference of the patient.
• Since off-patent biologicals are essentially the same molecule, switching to a biosimilar will not prevent immunogenicity to the reference medicine which can lead to loss of response and adverse events.
• Scientific and clinical evidence is lacking regarding reverse switching, multiple switching and cross-switching among off-patent biologicals.
• There should be a robust pharmacovigilance strategy to protect patients and develop the long-term evidence base required to provide patients and clinicians with the necessary assurances on safety and effectiveness.
• Off-patent biologicals are likely to be produced beyond infliximab and may help reduce the cost of IBD treatment throughout the Asia-Pacific region.

Conflict of interest
The authors of the research paper [1] declared that there was no conflict of interest.

Editor's comment
It should be noted that off-patent biologicals approved in Asia might not have been authorized following as strict a regulatory process as is required for approval of biosimilars in the European Union. The EMA (European Medicines Agency) regulatory requirements ensure the same high standards of quality, safety and efficacy for biosimilars as for originator biologicals, and also include a rigorous comparability exercise with the reference product.

Related articles
Is switching to biosimilar infliximab safe?

Biosimilars to replace older biologicals for IBD

Reference
1. Ooi, CJ, Hilmi I, Banerjee R, et al. Best practices on immunomodulators and biologic agents for ulcerative colitis and Crohn's disease in Asia. Intest Res. 2019 Published online: 2019 May 31. doi: https://doi.org/10.5217/ir.2019.00026

Permission granted to reproduce for personal and non-commercial use only. All other reproduction, copy or reprinting of all or part of any 'Content' found on this website is strictly prohibited without the prior consent of the publisher. Contact the publisher to obtain permission before redistributing.

Copyright – Unless otherwise stated all contents of this website are © 2019 Pro Pharma Communications International. All Rights Reserved.