Epoetin alfa and pure red cell aplasia Posted 01/10/2010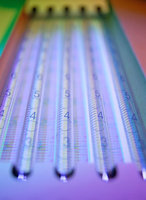 Most therapeutic proteins have the potential to induce an immune response. Cases of pure red cell aplasia (PRCA) were reported after the formulation of Eprex (epoetin alfa) was changed. It is now known that 'the process is the product' and the formulation cannot be changed without approval by the relevant authorities.
PRCA occurs rarely and in the late 90's was associated with Eprex, an original erythropoietin alfa used to stimulate the production of red cells in patients with chronic renal failure or undergoing chemotherapy. It became clear that PRCA cases increased dramatically after the removal of human serum albumin from the epoetin alfa formulation and its replacement with polysorbate 80 and glycine as stabilisers.

There are a number of variables that influence the immunogenicity of a protein, but the tendency to form aggregates is one of the most important, since these may structurally simulate a viral particle. It was first suggested that aggregates of small molecules (micelles), more likely with the new formulation, were responsible for the severe immunogenic reaction. It was suggested that they dispersed if the product was administered by IV, but remained if given by the SC route.

In the end it was found that organic compounds leached from uncoated rubber stoppers in prefilled syringes for SC injection if the formulation contained polysorbate 80. These had the ability to behave as adjuvants and stimulate a much stronger immune reaction to erythropoietin alfa. In addition, sensitisation to leachates from synthetic rubber tubing used in medical equipment may predispose patients to hypersensitivity reactions during subsequent contact with synthetic rubber products. Haemodialysis patients are particularly likely to be exposed to such sensitisers, and may be more likely to mount an immune response to epoetin in the presence of synthetic rubber leachates. So the change in formulation was responsible for the PRCA, although not directly.

Eprex prefilled syringes were provided with fluoro-resin coated stoppers, and all epoetin alfa products are now authorised for SC and IV use.

References

Schellekens H. Biopharmaceutical immunogenicity: association between epoetin alfa and pure red cell aplasia. Eur J Hosp Pharm. 2003;8(3):68-9.

Sharma B, et al. Technical investigations into the cause of the increased incidence of antibody-mediated pure red cell aplasia associated with Eprex. Eur J Hosp Pharm. 2004;10(5):86-91.

Boven K, et al. The increased incidence of pure red cell aplasia with an Eprex formulation in uncoated rubber stopper syringes. Kidney Int. 2005;67(6):2346-53.