Is switching to biosimilar infliximab safe? Posted 14/06/2019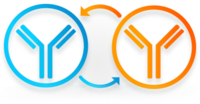 Building on a number of studies on biosimilar infliximab for inflammatory bowel disease (IBD), a recent review shows switching to CT-P13 is safe, but more evidence is needed on switching back to originator and switching between biosimilars [1].
Biosimilars for IBD, a group of severe gastrointestinal disorders including ulcerative colitis and Crohn's disease, have revolutionised treatment. The cost savings initiated by biosimilar therapies have increased patient access and decreased the rate of hospitalisation and surgery, improving prognosis for many patients. However, debate remains about the safety and effectiveness of switching from reference drug to a biosimilar.

Infliximab, a monoclonal antibody against tumour necrosis factor-alpha (TNF-α), is commonly and successfully used treatment for IBD. Originally marketed as Remicade, biosimilars for the drug were approved in the EU in 2013 and the US in 2016.

To address questions that remain over switching from originator to biosimilar infliximab, a recent review assessed all clinical studies into biosimilar infliximab published up to 1 December 2018. They found 43 studies in total: 29 studies assessing switching and 14 assessing induction with biosimilar infliximab.

In terms of immunogenicity, the review describes both basic science and clinical trial data on infliximab biosimilars. It discusses studies showing that anti-Remicade antibodies in patients with IBD recognize and inhibit the biosimilar Remsima, suggesting similar immunogenicity.

Concerning efficacy, the longest prospective, observational study on infliximab included 83 patients, 66% of which continued using CT-P13 more than 2 years after switching from the reference drug. Importantly, during this period trough levels (the lowest concentration reached by the drug before the next dose is administered) and disease activity did not change significantly. A further prospective cohort study of 133 patients also found no difference in drug levels or disease activity between innovator and biosimilar infliximab.

Regarding switching, analysis of 11 observational studies in 829 patients treated with biosimilar infliximab (CT-P13) found a sustained clinical response after switching and rare adverse events. No studies have yet reported a significant difference from originator infliximab and many have confirmed the long-term efficacy and safety of CT-P13.

Overall, the studies confirm that CT-P13, a biosimilar of infliximab approved by the European Medicines Agency in 2013, is safe and equally effective as the reference drug, both when used as treatment from the beginning of therapy and when switching from reference product.

When it comes to multiple switches, however, the evidence is less clear. As more and more infliximab biosimilars enter the market, the authors say it will be critical to standardize the regulatory landscape. Clinicians are frequently asked to decide about switching from reference drug to biosimilar, and in the future are likely to be asked to consider switching from that to a new biosimilar.

One example of this is SB2 (Flixabi), an infliximab biosimilar launched in 2016 by American firm Biogen Inc. Efficacy and safety data is currently lacking for SB2 and the authors say long-term follow-up studies (including measurement of antibody and trough levels) are needed. Indeed, it is important that post-marketing surveillance and prospective follow-up studies are performed for all newly registered biosimilars.

The review concludes that switching from originator infliximab to CT-P13 in IBD is safe and acceptable, but more evidence is needed regarding switching back to originator (reverse switching), multiple switching between drugs, and switching between biosimilars (cross-switching).

Conflict of interest
This work of the review [1] was supported by the research grants of the National Research, Development and Innovation Office. The authors of the research paper [1] declared that there was no conflict of interest.

Editor's comment
Readers interested to learn more about biosimilars for inflammatory bowel disease are invited to visit www.gabi-journal.net to view the following manuscripts published in GaBI Journal:

First biosimilar of infliximab approved in Brazil: response from the Brazilian IBD society

BSG guidance recommends switching to biosimilar infliximab

Biosimilar infliximab introduction into the gastroenterology care pathway in a large acute Irish teaching hospital: a story behind the evidence

Readers interested in contributing a research or perspective paper to GaBI Journal – an independent, peer reviewed academic journal – please send us your submission here.

Related articles
Clinical and real-world data for switching to biosimilars

Interchangeability between infliximab biosimilars with respect to immunogenicity

Safety of biosimilar infliximab in pregnant women with IBD

Reference
1. Milassin Á, Fábián A, Molnár T. Switching from infliximab to biosimilar in inflammatory bowel disease: overview of the literature and perspective. Therap Adv Gastroenterol. 2019;12:175628481984274.

Permission granted to reproduce for personal and non-commercial use only. All other reproduction, copy or reprinting of all or part of any 'Content' found on this website is strictly prohibited without the prior consent of the publisher. Contact the publisher to obtain permission before redistributing.

Copyright – Unless otherwise stated all contents of this website are © 2019 Pro Pharma Communications International. All Rights Reserved.