Small molecule versus biological drugs Posted 29/06/2012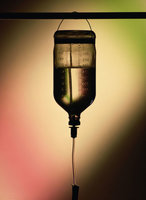 Biological drugs are large and complex, often consisting of heterogeneous mixtures. They are generally made in genetically engineered cells that impose their own variabilities–in post-translation modifications such as glycosylation–on the processes used to make such drugs.
Manufacturing of biologicals is more challenging than for traditional small molecule drugs. Even minor changes in manufacturing process can cause significant changes in efficacy or immunogenicity.

A comparison of small-molecule and biological drugs makes it clear as to why there are so many challenges with the production of biosimilars of biologicals compared to the relatively easy task of making a generic of a small molecule drug.

As an example aspirin, which is considered a small molecule drug, measures just 180 daltons and has 21 atoms. It has little ability to initiate an immune response and remains relatively stable over time. In contrast, a typical monoclonal antibody biological drug measures 150,000 daltons, contains 20,000 atoms, degrades over time, and has the ability to generate a significant immune response. Thus, the production of a biological is an inherently unstable situation requiring special handling and storage, see Table 1.

Table 1: Characteristics of small molecule drugs compared to biologicals [1, 2]
Small molecule drugs

Biological drugs

Size

- Small (single molecule)
- Low molecular weight

- Large (mixture of related molecules)
- High molecular weight

Structure

Simple, well defined, independent of manufacturing process

Complex (heterogeneous), defined by the exact manufacturing process

Modification

Well defined

Many options

Manufacturing

- Produced by chemical synthesis
- Predictable chemical process
- Identical copy can be made

- Produced in living cell culture
- Difficult to control from starting material to final API
- Impossible to ensure identical copy

Characterisation

Easy to characterise completely

Cannot be characterised completely the molecular composition and heterogenicity

Stability

Stable

Unstable, sensitive to external conditions

Immunogenicity

Mostly non-immunogenic

Immunogenic
API: active pharmaceutical ingredient

The problem with biologicals is also the cost, especially as they are often used for chronic conditions, such as rheumatoid arthritis. Whereas a small molecule drug costs on average US$1 per day, with a generic drug costing just cents, a biological drug costs on average US$22 per day [3].

When considering biosimilars, inherent differences between biosimilars may produce dissimilarities in clinical efficacy, safety, and immunogenicity. Therefore, switching biosimilars should be considered a change in clinical management.

Related articles

Controversial nomenclature for new biosimilars

Current status of biosimilar development

References

1. Declerck PJ. Biologicals and biosimilars: a review of the science and its implications. Generics and Biosimilars Initiative Journal (GaBI J). 2012;1(1):13-6. DOI: 10.5639/gabij.2012.0101.005

2. Schellekens H, et al. Poster #R6341 presented at FIP Pharmaceutical World Congress 2010.

3. GaBI Online - Generics and Biosimilars Initiative. Opportunities for biosimilar development [www.gabionline.net]. Mol, Belgium: Pro Pharma Communications International; [cited 2012 Jun 29]. Available from: www.gabionline.net/Biosimilars/Research/Opportunities-for-biosimilar-development
Comments (2)
self propelled wheelchair posted 19/03/2021 - by Aliaparker
It's truly decent and meanful. it's a truly cool web journal. Connecting is an exceptionally valuable thing. you have truly helped individuals who visit web journal and give them useful data.
Self propelled wheelchair
pharmacy posted 01/11/2020 - by hassan khaan
This is really likewise an incredibly beneficial placing most of us severely encountered shopping as a result of. It truly is faraway from each and every day we have now possibility to think about something.
Pharmacy